Areas We Serve
---
Progressive Builders, Inc is a premier Los Angeles County general contractor that provides stunning home renovations that radiate the finest craftsmanship available in California. We serve the following communities:
Our Services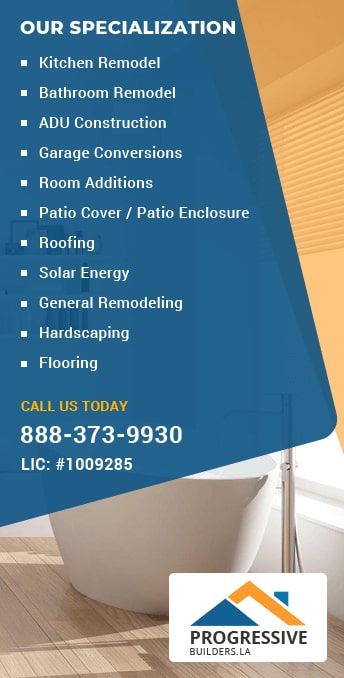 Bathroom & Kitchen Remodels
Progressive Builders, Inc's remodeling contractors will design for you an efficient yet stylish bathroom or kitchen remodel that's an escape from the pressures of the world. Kick back and relax as we customize a bathroom renovation that feels like an oasis, or a stunning kitchen design that feels warm, inviting and innovative.
Garage Conversions & Room Additions
Revamping wasted space or building a room addition is always a smart way to add property value while creating a home that feels like your own. You don't have to move just because your family is growing or you need more space! Progressive Builders, Inc will explore every possibility to improve on your current home.
Patio Covers & Enclosures
If you've always wished for a patio, we are here to fulfill that dream. Kick back and enjoy a fresh California breeze while protecting your outdoor space from the unpredictability of Mother Nature.
Roofing
Your roof is essential to the structural integrity of your home. Progressive Builders, Inc has one of the leading roofing teams in Los Angeles County to leave you with a professional, stylish yet affordable roofing solution.
Solar Energy
Are you interested in alternative energy? We can install, maintain and replace solar panels on both residential and commercial properties.
General Remodeling
Progressive Builders, Inc is ready to help convert any room in your home into a luxurious space designed with custom features.
Contact Us for a Complimentary Consultation
Is it time to turn an unused or outdated room into that much-needed extra bedroom or another space of your dreams? Call Progressive Builders, Inc today at (888) 373-9930 or submit our online form. We are ready to build a home that combines the functionality you crave and the style you love!