Expert Garage Conversions Add the Perfect Extension to Your Home
---
Utilizing the unused space of your garage is a smart idea. A garage conversion helps you to use your square footage more efficiently and also increases the value of your property.
Progressive Builders, Inc is one of the most trusted general remodeling contractors in Los Angeles, offering professional and innovative garage redesign services. We are determined to deliver complete satisfaction to all our clients by focusing a great deal of attention on the smallest of details. In fact, most of our new clients come from recommendations made by our previous and existing clients!
Transform Your Garage Into Something Beautiful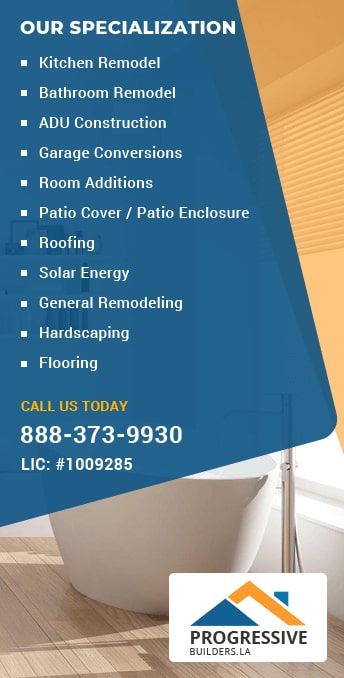 Garage conversion takes a lot of time and effort. The whole process involves a lot of steps including consultation, planning, obtaining the necessary permissions and, of course, the execution of the project. Given the complicated nature of the task, it is crucial to have an experienced remodeling contractor by your side.
Throughout the years, Progressive Builders, Inc has gained a lot of experience and knowledge so we can face any challenge innovatively and effectively. All conversion work is done by adhering to all necessary building regulations to guarantee the highest quality of work with no errors.
We have a team of some of the most experienced and skilled designers, architects and builders who use their expertise to ensure that all your demands are met, and all your desires are fulfilled on time. Being the most capable team in garage conversion in the area, Progressive Builders, Inc can help you to convert your garage into a gym, bedroom or anything else that you desire.
Remodelers With a Reputation Built on Trust
It's important to hire kitchen remodeling contractors who have the requisite experience and know-how to create the kitchen of your dreams by remodeling your existing one in ways you never imagined. Progressive Builders, Inc provides a "true value for money" service, which is evident from both our past kitchen renovation projects and the ones we are currently executing.
Schedule a Free Consultation
Ensure you get the most reliable garage remodeling services available by choosing Progressive Builders, Inc. Our consultants will be happy to give you a free estimate and answer any of your questions. Fill out our online contact form or call our office today at (888) 373-9930.