Sylmar, CA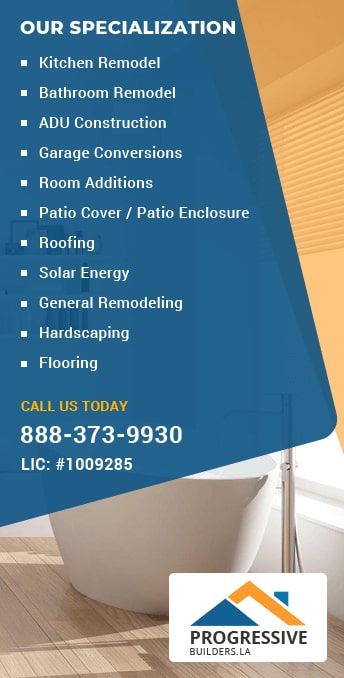 Sylmar in San Fernando Valley is known for its orchards and vineyards and it is in this city where Olive cultivation and production began in a systematic manner in the late 18th century. This city has a series of renowned schools and hospitals, making it one of the most preferred residential townships in California for the lower income group, middle class and migrant population who find it easy to carry on with their lives in this beautiful city. It is exactly here, 'Progressive Builders, Inc' comes with its expertise in the area of complete home remodeling solutions that is way ahead of others in terms of affordability, quality, craftsmanship, ergonomics and aesthetics that make a living area look spacious, luxurious and visibly appealing to all. Our experts carry out any home remodeling and renovation activity to perfection by using the superior quality building materials which is evident from the design and craftsmanship that has a signature touch to it. As the leading general remodeling contractors in LA, we specialize in garage conversion service Sylmar and Sylmar patio remodeling services apart from the core area of kitchen & bathroom remodeling services, which is our strength.
Kitchen Remodeling Services Sylmar, CA
Kitchen is one such area that craves for attention and after a prolonged time it requires a complete makeover or an overhaul to look much more spacious, luxurious and functionally sound. Progressive Builders, Inc comes in with its vast expertise in the field of kitchen remodeling Sylmar service as there is an increasing number of homeowners who look to change the decor, style and design of their kitchen to blend perfectly with other areas of their house and in the process, reclaim additional spaces within the home. The most essential aspect of one such activity is to modernize the existing decor of your kitchen with new, advanced and quality building materials and appliances that would last for years.
Our renovation experts carry out the task of kitchen renovation service Sylmar by implementing new design ideas and with the installation of storage cabinets, granite and marble countertops, stainless steel sinks, faucets, microwaves, kitchen chimneys, wall ovens and a whole lot of other modifications that definitely has an impact on the overall look of your cooking space or dining area. If you are looking for professional Sylmar kitchen renovation contractors, it is our team of experts who can help you get a sparkling new, shining and spacious looking kitchen that would be the envy of all.
Bathroom remodeling Solutions Sylmar, CA
A bathroom is one such place that encounters the maximum wear & tear in your home as it is exposed to elements such as water, soap, detergent, steam, chemical solutions with high P&H content as well as moisture during the winter months which results in extensive damage. The most common phenomenon is corrosion of tiles, marbles and granite countertops which can be easily replaced but what's more interesting, is to reclaim additional spaces and install modern devices and gadgets that make your bathroom look very spacious and this is only possible through a professional bathroom redesign Sylmar service as carried out by an expert.
We are here with our expertise in the area of bathroom remodeling Sylmar service that is second to none as the building materials used in our bathroom renovation process is of the highest quality that leaves no room for compromise on 'product' and 'build' quality. Therefore, it can be said that you always need to hire a professional who has got years of experience in redesigning and remodeling a bathroom with the most advanced building materials that is sure to last for years. We start with the initial planning, groundwork and the final execution of the task that involves participation of quality men who are all skilled craftsmen in their individual work domain and the end result is a sparkling new and spacious bathroom with all the modern bath fittings and appliances that creates a 'wow' effect.
Garage Conversion in Sylmar
Have you ever looked at your garage and thought why you are wasting that space? Well, now you can change things! Progressive Builders, Inc is a professional garage conversion company in Sylmar and over the past years, we have people like you get more from their garage. If you want to utilize space more effectively and get more value from your property.
As an experienced garage conversion contractor in Sylmar, we help you get the right solutions. We have helped people rediscover their garage as an additional bedroom, home office, home gym or any other amenities that you might want. We would ensure that the work is done without compromising on the structural integrity of your home. Contact us today to know more about our garage conversion services in Sylmar.
ADU Construction in Sylmar
Progressive Builders, Inc also works as a professional ADU Construction Company in Sylmar. One of the biggest advantages is that we are one of the few ADU construction contractors in Sylmar to have a dedicated team for building ADUs. This means that you would have people working on your project who have decades of experience in building similar structures. They have the skills and the technical know how that would give you the right solutions for building ADUs for your home.
From applying and getting the permits, getting the plans approved, to building a structurally solid ADU that would give you everything that you need -our team for professional ADU construction in Sylmar would help you get exactly what you need. So, get in touch with our professional ADU construction company in Sylmar and fulfill your dreams.