Camarillo, CA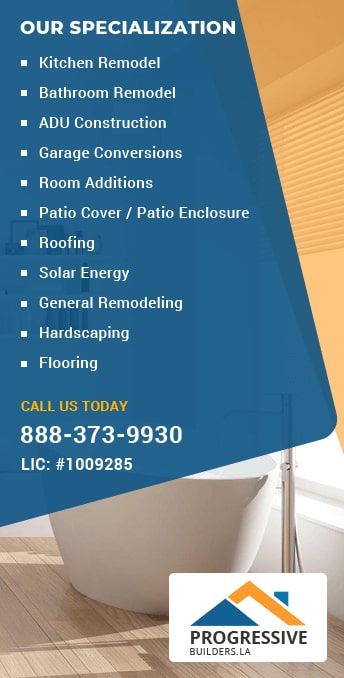 In the city of Camarillo which is in Southern California, "Progressive Builders, Inc" has achieved the highest levels of professionalism in the area of home remodeling services as we have got an army of experienced home remodelers renovation experts who are skilled to the core. In the Ventura County, we are the first and last name in the exclusive domain of kitchen and bathroom remodeling in Camarillo as we have experts who have attained years of experience in redesigning specific areas of your home with perfection and with professionalism. Our renovators employ the latest methods as well as use the best building materials in the process of remodeling a house and it is your bathroom and kitchen that deserves special attention. We are the leading kitchen and bathroom remodelers in Camarillo, CA and our expertise is not just limited to these two areas but also extends to various other areas such as patio redesign, landscaping, roofing, garage & loft conversions etc. Choose our professional services for getting a completely transformed kitchen or bathroom that would be the envy of your neighbors. We also have the most experienced roofing contractors Camarillo CA in our dedicated payroll.
Kitchen Remodeling Services Camarillo
The name "Progressive Builders, Inc" has become synonymous with Camarillo kitchen remodelers, and it is our team of experts who are redesigning and reconstructing old, worn out and dilapidated kitchens into dazzling new cooking and dining areas that is sure to create a 'wow' effect. Kitchen remodeling Camarillo has always been our forte and till date we have held the #1 position in the entire Ventura County region when it comes to professional kitchen redesign services in Camarillo. The techniques employed in the kitchen renovation process is modern and ensures that every area of your kitchen space is properly looked after without neglecting a single nook and corner. Our kitchen renovators in Ventura County are highly trained and skilled in all aspects of redesign, renovation and remodeling as we use the latest methods and materials in our kitchen renovation Camarillo process that is helping us earn laurels and kudos from our esteemed customers who avail our 'value for money' service.
Today, there are few parallels in the exclusive domain of kitchen remodeling in Camarillo, CA and "Progressive Builders, Inc" is one such company that comes to the minds of all when thinking of an extensive kitchen redesign service. We are always ready with a solution and it is our experts who come to your doorsteps, analyze your needs and thereafter provide a custom kitchen remodel Camarillo solution that is perfectly to your liking and that best serves your home redesign needs.
Bathroom Remodeling in Camarillo, CA
Our experienced bathroom remodelers in Camarillo are always prepared with professional bathroom remodeling solutions that is way ahead of others in terms of planning, execution and materials used as we are second to none. You can definitely have a look at our bathroom redesign Camarillo projects and portfolios that we have displayed and showcased in our website and then go about deciding on why to choose our services. We are rated among the top bathroom remodeling contractors Camarillo due to our sheer expertise.
We are a force to reckon in the exclusive domain of kitchen and bathroom remodeling services in Ventura County and this is quite evident from our projects that we have successfully executed for our esteemed clients in California. Are you looking for a professional roofing Camarillo or bathroom remodeling Camarillo, then look no further as we are here with our expert and proven solutions that is cost effective and timely as well as to your satisfaction.
Garage Conversions in Camarillo
Garage conversion in Camarillo are a smart option to get more utilizable space from your home.Most homeowners fail to realize that. Most people keep their cars parked in the driveway. In such cases, they use the garage as a store room. But did you know that your garage could do so much more? For example, if you are a professional who desires to have a full-fledged office at home, then you can 'convert' your garage into an office. You can also use solutions for garage conversion in Camarillo for turning your garage into a man-cave, an additional bedroom, home gym, kids play area and what not. The opportunities are truly limitless.
Progressive Builders, Inc offer complete services for garage conversion in Camarillo. There are a lot of things that sets us apart from other companies offering similar services. For example, we are one of the few companies to have a dedicated team for garage conversions in Camarillo. This means that our team of professionals have specific knowledge in what would work and what wouldn't work.They have the capability of coming up with unique designs that ensure that your new garage doesn't look like a space that is just hastily put together, but a place that seamlessly integrates into your home. So, if you are looking for garage conversion in Camarillo, contact us today.
ADU Construction in Camarillo
ADUs or Accessory Dwelling Units are a great way to get more from your home. There can be many different technical ways to define an ADU, but to put it in the simplest of ways, it can be defined as as mall home on your property. Most ADUs are usually detached from your home and they come complete with a kitchen area and bath to be qualified as an ADU. When you build an ADU with professional ADU Construction Contractors in Camarillo, you can use it for various purposes like rental, personal use or even as an in-law space.
Progressive Builders, Inc are a professional ADU construction company in Camarillo and we have been building ADUs for the past few decades. Building an ADU by a professional ADU contractors in Camarillo, would help you deal with the various challenges. We would help you plan for the ADU,get the necessary permits and also source the right materials to build the right ADU for your home.Contact us and get the right ADU construction services in Camarillo.