Pacific Palisades, CA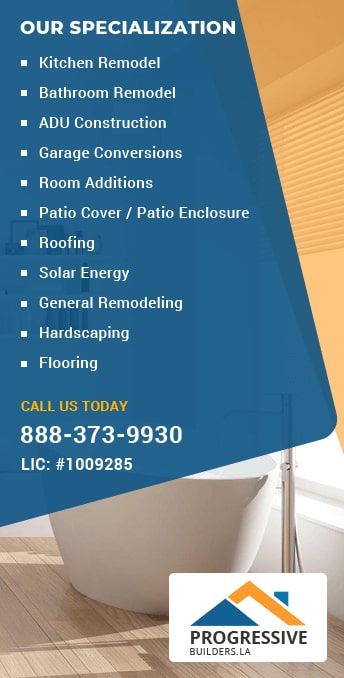 Pacific Palisades is a coastal township in the city of Los Angeles with a population of little over 27000 and it boasts of some of the luxurious private homes, cosy mansions, penthouses, spacious condominiums and apartments that are designed by some of the well known architects in California. Therefore, it is not difficult to understand why there is a huge demand for home remodelers and renovation architects in this particular region who go on to create symphony in wood, bricks, concrete and sand that is a treat for the eyes. Progressive Builders, Inc is one such Pacific Palisades remodeller who has years of experience in remodeling kitchen, bathrooms, patios, garages and lofts through some of its leading craftsmen who are exceptionally deft at creating smart living spaces that is aesthetically beautiful and appealing. Today, solar energy is the best source of renewable energy in the US and we are also experts in solar panel installation service Pacific Palisades through our engineers who excel in installing solar panel on rooftops of homes and offices. When it comes to exceptional quality home remodeling and general roofing solutions, it is our company that helps you get a customized home renovation solution at an affordable cost.
Kitchen Renovation Pacific Palisades, CA
We go about the process of kitchen renovation in the most professional manner by overlooking the entire renovation and redesign work through our experienced supervisors who carefully examines the quality of work and materials used in the process of renovation. The first step is to visit your house, conduct a feasibility study, map the entire renovation area through exact measurement, learning about your cost estimate and finally jumping into the actual remodeling work that involves a series of activities, starting from dismantling a partition wall and create additional space to install modern kitchen appliances, storage cabinets, improved flooring and countertops that helps your kitchen look modern and complete. We are one of the leading experts in kitchen remodeling Pacific Palisades as we use the methods that are technically sound and proven.
Our expert team of kitchen remodelers Pacific Palisades fine tune their strategy before it starts to work on any kitchen redesign project by finalizing the design layout, master plan and the choice of building materials with the homeowner or client. It is really important to take the suggestion of clients who are the actual beneficiary of one such remodeling work and who are actually paying for it. We ensure that the materials have to be of the premium quality and also the kitchen appliances that are installed are of the 'best-selling' brands. This makes us one of the preferred kitchen renovation Pacific Palisades company among our esteemed clients.
Bathroom Remodelers in Pacific Palisades, CA
Our bathroom renovation services in Pacific Palisades ensures that your bathroom gets the type of look that you had desired by making use of the finest quality materials that is available and when the work is complete, it is one of a kind space in the whole of Pacific Palisades. Knowing your budget for one such bathroom remodeling Pacific Palisades work can really ensure that you get the type of look for your bathroom that you had always desired and opted for in the most seamless manner.
This goes on to explain our professionalism that we show for any constructive redesign work and the end-result is a stunning looking bathroom that has the best features which is complete in every aspect. It is no doubt why we are rated among the top Pacific Palisades bathroom redesign contractors who have the skills and proficiency to transform an ordinary looking bathroom into a grand and royal space by paying attention to all the necessary details that impact any constructive redesign work.
Garage Conversion in Pacific Palisades
We are one of the trusted names for Garage Conversion in Pacific Palisades. What makes right for the job is our innovative approach to garage conversion services in Pacific Palisades. We are one of the most experienced garage conversion contractors in Pacific Palisades and we always think out of the box to make sure that all your demands are met.
So, what we can make your garage transform into? Well, we can convert your garage into a home office, a library, a gaming room, studio, greenhouse, or even an additional bedroom. We can even help you build you multiple levels. The possibilities are limitless. Just tell us what you want, and we would plan in way that it is brought to life in the most effective way, without any hassles to you. So,get in touch with the professional Garage conversion contractor in Pacific Palisades and get more from your garage.
ADU Construction in Pacific Palisades
Accessory Dwelling Units or ADUs are a smart way to get more from your home. They could be defined as a small home on your property that is usually detached from your main house. In most cases, it would come complete with kitchenette, bath and various other features. Progressive Builders, Inc offers professional ADU construction services in Pacific Palisades so that you can build your ADU, the way it deserves to be build.
One of the most challenging aspects of ADU construction in Pacific Palisades is getting all the permits. You would need to ensure that the plan for ADU would get approved and for that, you would need to adhere to the local laws. As a professional ADU construction company in Pacific Palisades, we would get all the permits that is needed so that you don't face any issues later on.