Northridge, CA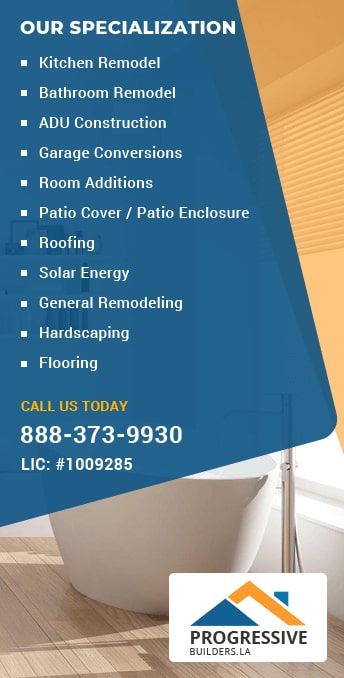 The neighborhood of Northridge is one of the most bustling communities in the San Fernando Valley. The community is known to be the seat of education, and for its history. If you are in Northridge, and you are looking to renovate your home, then Progressive Builders, Inc is the right option for you. We are one of the most experienced home remodelers in Northridge and we offer you the right services at the right prices.
Kitchen Remodeling in Northridge, CA
Progressive Builders, Inc has been working as a kitchen remodeling company in Northridge, and we would help you renovate your kitchen, just the way you want. As an experienced kitchen remodeling contractor in Northridge, we help you deal with tasks like kitchen cabinet and countertop installation, setting up kitchen islands, lighting and plumbing and lot of other things.
To get our kitchen remodeling services in Northridge, all you need to do is just give us a call and we would handle the rest. We would look at every single detail so that your kitchen is as perfect as you have always dreamed it to be.
Bathroom Remodeling in Northridge, CA
If you want to get a truly relaxing experience from your bathroom, then our bathroom remodeling services in Northridge would be just right for you. Thanks to our high level of expertise, we would help you build you the right solutions for bathroom remodeling in Northridge.
As a professional bathroom remodeling contractor in Northridge, we offer customized solutions for small as well as large bathrooms. From building alcove bathtubs and combining the shower and bath areas, to designing large bathrooms with ornate tubs and vanities, we would help you with all.
Garage Conversion in Northridge
Garage conversion is all about using your garage space for something more than just parking your car. Progressive Builders is a professional dedicated garage conversion company in Northridge, and we help people convert their garages into additional bedroom, home office, gym, studio, game room and much more.
To know more about our garage conversion services in Northridge, contact our Progressive Builders in in Northridge today.
ADU Construction in Northridge
ADUs or Accessory Dwelling Units often come complete with kitchenette, bath and bedroom. They are usually detached from your main home. Since they are practically a home in itself, they need a different skill set to be built in the right way. Progressive Builders, Inc is a professional ADU Construction contractor in Northridge, and we help you to build you an ADU that could be used for rental space or as you in-law space.
From getting the permits from your local authorities to ensuring that your ADU perfectlycompliments your existing home, our professional ADU construction company in Northridge would help you out.