Whittier, CA
The city of Whittier in Southern California is one of the most picturesque townships in the entire Los Angeles county region and it boasts of lush green ambiance as well as lavish and splendid mansions which dominate the Whittier skyline. It is also one of the most affluent locations in the whole of LA county region with some lavish residences. Therefore, it is no doubt why it has some of the most renowned kitchen and bathroom remodelers who offer the most credible home redesign and renovation solutions that help homeowners get a swanky new living space in the form of dining, kitchen and bathroom area at a very competitive price. At 'Progressive Builders, Inc', we offer the most professional kitchen and bathroom remodeling solutions that help any living space get that smart and exquisite look through a complete renovation and redesign activity as executed by our experienced home building professionals in the form of carpenters, plumbers, masons, painters and structural engineers as well as interior designers who perform any given task to perfection through the use of the best quality material that is available. Now you too can get a professional makeover for your 'home sweet home' by hiring our dedicated home renovators and home remodelers in Whittier who are thorough professionals. Call us now at (888) 373-9930 for a FREE quote and a FREE consultation.
Kitchen Remodeling in Whittier, CA
We tread that extra mile in understanding your specific kitchen redesign needs and tailor the best kitchen makeover plan that is indeed to your liking and well worth your money. We use superior quality home building materials and through careful planning, we recreate a kitchen that is transformed into a spacious and luxurious area which is fully furnished with the high quality wooden storing cabinets, wooden or metal furniture and various other kitchen fittings and appliances that is soothing to the eyes and blends perfectly with the decor of your abode. We are one of the leading experts in the exclusive arena of kitchen remodeling Whittier as we employ some of the most advanced methods of kitchen restoration and redesign that certainly produces a vibrant and refreshing look for your cooking and dining area and the color matching as well as color combination too gives your space that energetic and refreshing feel. We design, plan and execute any mega kitchen renovation project with utmost ease and in a considerably lesser amount of time when compared to other service providers.
Progressive Builders, Inc is among the leading kitchen remodelers in Whittier, CA and it is our esteemed clients who say about us and our exclusive services. We strongly believe that no two kitchen design can be the same and our kitchen renovation Whittier professionals and experts, perfectly understands and abides by this principle. So, you can hire our services as we are one of the leading Whittier kitchen remodeling contractors as we help you get that dream kitchen which you have always aspired and which is replete and exclusive in every aspect, be it style, functionality, space, material quality, aesthetics and ergonomics that truly defines the hallmark of professional remodeling.
Bathroom Remodeling Services Whittier, CA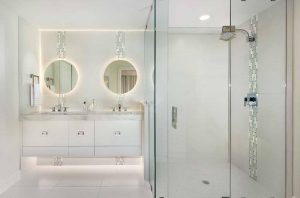 You can call our bathroom renovation experts in Whittier and get a dazzling new bathroom loaded with the best of features and reclaim that additional space in your home for making your shower area looking sparkling new, spacious and shining. We are here to offer that extra glam to your bathroom by adding some goodies and making it look exceptionally modern and contemporary by the optimum use of glass, marble stone, glazed tiles and wood that make it look stunning and refreshing.
We are the top Whittier bathroom remodeling contractor who uses the best quality branded material for any constructive bathroom remodeling Whittier activity and the end result is a spacious and luxurious bathroom that has got the best amenities and the ambiance that is to your liking. Our bathroom redesign activity is years ahead of other as we always think 'out of the box' design which is loved and admired by all and it is our renovators and remodelers who produce excellent bathroom redesign ideas, day in and day out.
Your subscription is not active
Please visit the admin site to re-activate your subscription