Glendale, CA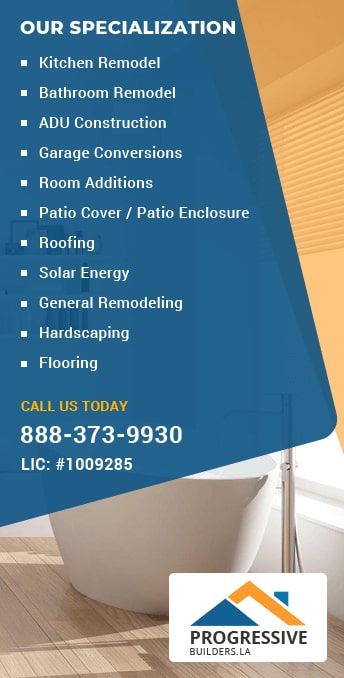 In the city of Glendale in the Los Angeles county region, "Progressive Builders, Inc" happens to be the first and last name when it comes to redesigning homes in a 'picture perfect' manner without any flaws and technical glitches. With our years of industry specific experience, we have mastered the art of roofing, landscaping and remodeling kitchens, bathrooms, patios, garages and lofts into spacious, stylish, luxurious and comfortable areas. We have a full-fledged team of seasoned carpenters, masons, plumbers, painters and of course interior designers, expert home remodelers and architects who meticulously plan a home redesign area and thereafter go about executing the said job in a seamless and professional manner and the end result is a 'wonder home' with all the best facilities and amenities with increased spaces. We are rated among the top roofing contractors Glendale, CA and if you are looking for the top Glendale roofing company, we are a name to reckon in the entire state of California. Call us now at 888-373-9930 and get your dilapidated kitchen, bathroom, garage or patio converted into a brand new residential space with extra features that also helps to lower your energy consumption by making optimum use of open spaces.
Professional Kitchen Remodelers Glendale, CA
Our kitchen remodeling Glendale services are second to none in the Los Angeles county region as we have mastered the art of Glendale kitchen redesign through our exceptionally professional and skilled workforce who have years of experience in redesigning a particular living area to perfection. The skills employed by our architects, builders, remodelers and interior designers can be compared to the best in the world as we employ the latest methods of kitchen restoration and make any home space look spacious, stylish, grand and luxurious. Replete with tiles, marbles, granite stones, gadgets, laminated flooring and wooden kitchen cabinets Glendale, your cooking area gets a new lease of life and that is to stay for years. If required, we completely bring down the old structure and remodel it with a brand new design with improved functionalities and features.
Call us now if you are looking for a kitchen redesign Glendale service and our professionals would be at your doorsteps, understanding your specific design requirement and then going about executing the task of renovation and remodeling with newer and advanced techniques. We are experts in space reclamation within any house and thereby provide a new lease of life to a worn out kitchen, living room, bedroom or bathroom by using the latest appliances, techniques and building materials. Think about kitchen renovations Glendale and we are here with our expert advice, suggestions and options such as Oak furniture kitchen, round kitchen, oval kitchen or a rectangular kitchen with the best furnishings.
Bathroom Remodeling Services in Glendale, CA
Our experienced bathroom remodelers Glendale are some of the most highly trained and skilled guys who love their job and go about executing any project with utmost dedication and sincerity. Not just kitchen makeovers and roofing services Glendale, we are also experts in bathroom renovations, giving a thoroughly refreshing look to your bathroom by using the most advanced makeover techniques. Progressive Builders, Inc are experts at installing new gadgets, tiles, marbles, flooring, storing cabinets and above all reclaiming new spaces within your home that make your bath area look grand, spacious and luxurious. We offer you a variety of choice when it comes to choosing material quality, color combination and a catalog of design that is simply overwhelming.
Bathroom remodeling Glendale has always been our forte and we are always ready with our expertise to provide you the most affordable and bespoke bathroom remodeling services in Glendale, CA that is second to none. Progressive Builders, Inc is rated among the top bathroom remodeling company in Los Angeles county as we have professionals who are deft at producing stunning new designs for your kitchen, bathroom and living space that needs to portray a grand, elegant and sublime look. So, if you are looking for a home remodeling expert in this region, think about us and we will certainly oblige and overwhelm.
Garage Conversions in Glendale
Progressive Builders, Inc also offers garage conversion services in Glendale. If you think that your garage is taking up too much space and it should be used for a better purpose, then give us a call.We would help you convert your garage into something as useful like an additional bedroom, home gym, office, study, library, game room, kids play area, and what not!
Garage conversions might look simple, but it is nothing but simple! As professional garage conversion contractors in Glendale, we understand that perfectly. That is why, we would plan for every single detail and get the things done in the right way. We would ensure that no accidental damage is done to your home. Contact us today and experience the difference of working with the most experienced garage conversion contractors in Glendale.
ADU Construction in Glendale
ADUs or Accessory Dwelling Units are a great way to enhance the utility of your property. An ADU can be defined as a small-home on your property that is usually detached from your main home. It comes complete with a kitchenette, bath, bed and has all the utilities that gives you a comfortable living experience. You can use your ADU for rental purposes, or as your in-law space. Due to these advantages, having an ADU significantly increases the value of your property.
Progressive Builders, Inc is an experienced ADU construction company in Glendale. Building an ADU requires specific knowledge and access to the right tools and technology. As professional ADU construction contractors, we would ensure that you get what you deserve. Whether it is getting the permits or giving a look to your ADU that perfectly compliments your home, you wouldn't have to worry about a thing.