Experienced ADU Construction Contractors in Los Angeles
---
With the increasing demand for spacious homes and the need for more space in existing rooms and living spaces, ADU construction has become a necessity. If you also look for a reliable home remodeler to take care of your ADU construction projects, get in touch with us. Progressive Builders, Inc is here to help you turn all your ADU visions into reality. Get your personalized ADU spaces at affordable rates from one of the best local ADU constructors. Our expert builders deliver customized ADU solutions for residential homes and commercial properties fitted with state-of-the-art materials and trendy themes of your choice.
We emphasize on intricate details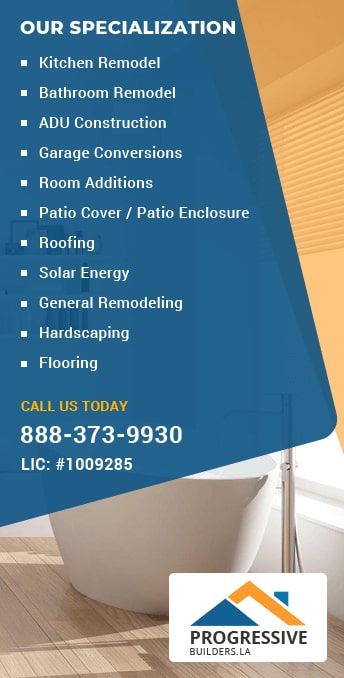 From the roofing materials to flooring materials and various other accessories we select nothing but the finest quality materials for all our ADU projects to ensure superior quality, durability, and last but not least, trendiness.
Our proficiency comes from the deployment of the finest craftsmen in the industry. They, with their superior understanding of their subjects and years of experience, produce works that speak for themselves. All their works are applicable and have been well-received by all the customers and the critics. If you are looking for the finest ADU constructors in Los Angeles, you are absolutely in the right place.
Get lifestyle-Inspired ADU Designs with the benefits of a superior customer support team and a team of expert builders whose quality is unlike any others. If you select Progressive Builders, Inc as your ADU constructors, rest assured to get delivery of your projects on time and in the most pocket-friendly of rates.
Our team of expert remodeling contractors is well-equipped to handle all kinds of projects with ease including room addition. They have the know-how which can convert even the simplest of spaces in the most lavish living spaces worthy of magazine features.
With a keen understanding of the building materials, customer preferences, and industry trends they are undoubtedly the best choice for any ADU remodeling and construction project.
Get a Free Estimate Today
Progressive Builders, Inc is beyond delighted to assist you with all your ADU project queries and would also provide you with a free estimate regarding your ADU construction, remodeling, and renovation. Our experts will also create a 3D model of your project and give a free demonstration before commencing your project. Contact us via our online form or call us at (888) 373-9930 for get a free estimate.