Carson, CA
In the Carson region of California, 'Progressive Builders, Inc' is the premier design and remodeling contractor providing homeowners with the most affordable and convenient home building solutions. Our expertise in delivering kitchen and bathroom remodeling solutions are of exceptional value that are recognized by our esteemed clients. Having satisfied hundreds of homeowners by installing cooking appliances, wall ovens, cooktops, microwaves, counter-tops, faucets, cabinets and flooring, we have earned the trust of our customers. We know that everyone desires a perfect home and we help you fulfill your dreams of having a stylish residential space. We offer complete home remodeling solutions that precisely cater to your needs. Whether you want to remodel your kitchen or bathroom, garage or patio, we have a solution for you. We are into this home remodeling industry for many years now, and that enables us to execute any project with a great deal of efficiency. Being years in the industry doesn't mean that we are short on ideas. In fact, we constantly innovate by coming up with newer and exciting ideas that would add to the 'wow' factor! We are the leading name in Carson Roofing and we also excel in making energy efficient home upgrades in Carson. Progressive Builders, Inc are the proud members of the National Association of the Remodeling Industry (NARI) and we are also certified by the League of California Homeowners and Build it Green. So, if you need work that is certified by the industry, trust only Progressive Builders, Inc.
Kitchen Remodeling in Carson, CA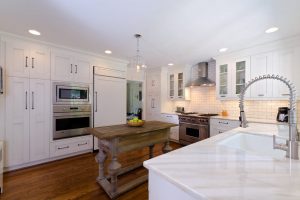 The kitchen is one of the most important area of a home and hence, a lot of homeowners want to design their kitchen in their own way that adds to the aesthetic beauty. Progressive Builders, Inc is one of the leading Kitchen Renovation Contractors Carson and we would help you bring all your ideas to life by producing highly functional kitchen design! By efficiently using your home space and using our sense of style, we design / remodel your kitchen in such a way that it would stun your guests and you as well! Whatever your budget be, we are always ready with a kitchen remodeling solution that perfectly matches your needs in a precise manner. There are no grey areas in our kitchen redesign work and that makes us the preferred name in the entire Carson region.
We offer the most professional and cost effective redesign services in the industry when it comes to Kitchen Remodeling Carson. We start by chalking out a detailed plan, so that we leave nothing to chance. We bring you on board with our designers and help you choose the right kitchen cabinets, flooring, the right appliances and other things that would make your kitchen 'picture perfect'. We would then focus all our energy to execute the project and finish it on time. So, get in touch with the true leaders in Kitchen Redesign Carson and experience the difference.
Bathroom Renovation Services Carson, CA
Progressive Builders, Inc are also experts in Bathroom Remodeling Carson. We have helped a number of homeowners in Carson to turn their boring old bathroom into something amazingly stylish. We understand what our users / customers want and therefore we try our best to satisfy the desires of our clients to the fullest in the most professional manner by understanding their preferences and knowing their budgetary concerns.
Redesigning a bathroom comes with its own unique set of challenges. Being one of the most experienced companies in the field of Bathroom Redesign Service Carson, we know how to meet those challenges head on! We would design you a stunning bathroom without doing any unnecessary damage to your house or property. We would also effectively manage the available space and the existing waterlines and ensure that you get the bathroom that you always dreamed of! So, get in touch with us today and let's design you the perfect bathroom for your home.
Your subscription is not active
Please visit the admin site to re-activate your subscription