Carson, CA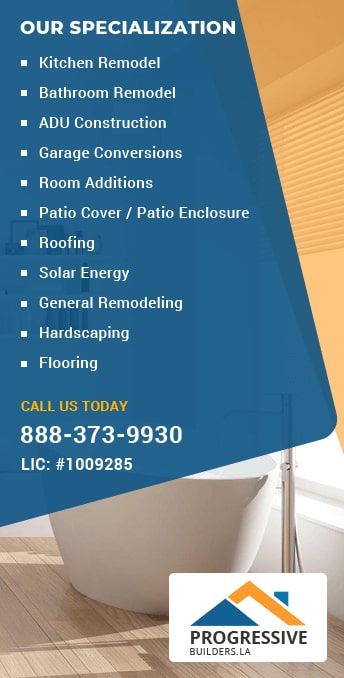 In the Carson region of California, 'Progressive Builders, Inc' is the premier design and remodeling contractor providing homeowners with the most affordable and convenient home building solutions. Our expertise in delivering kitchen and bathroom remodeling solutions are of exceptional value that are recognized by our esteemed clients. Having satisfied hundreds of homeowners by installing cooking appliances, wall ovens, cooktops, microwaves, counter-tops, faucets, cabinets and flooring, we have earned the trust of our customers. We know that everyone desires a perfect home and we help you fulfill your dreams of having a stylish residential space. We offer complete home remodeling solutions that precisely cater to your needs. Whether you want to remodel your kitchen or bathroom, garage or patio, we have a solution for you. We are into this home remodeling industry for many years now, and that enables us to execute any project with a great deal of efficiency. Being years in the industry doesn't mean that we are short on ideas. In fact, we constantly innovate by coming up with newer and exciting ideas that would add to the 'wow' factor! We are the leading name in Carson Roofing and we also excel in making energy efficient home upgrades in Carson. Progressive Builders, Inc are the proud members of the National Association of the Remodeling Industry (NARI) and we are also certified by the League of California Homeowners and Build it Green. So, if you need work that is certified by the industry, trust only Progressive Builders, Inc.
Kitchen Remodeling in Carson, CA
The kitchen is one of the most important area of a home and hence, a lot of homeowners want to design their kitchen in their own way that adds to the aesthetic beauty. Progressive Builders, Inc is one of the leading Kitchen Renovation Contractors Carson and we would help you bring all your ideas to life by producing highly functional kitchen design! By efficiently using your home space and using our sense of style, we design / remodel your kitchen in such a way that it would stun your guests and you as well! Whatever your budget be, we are always ready with a kitchen remodeling solution that perfectly matches your needs in a precise manner. There are no grey areas in our kitchen redesign work and that makes us the preferred name in the entire Carson region.
We offer the most professional and cost effective redesign services in the industry when it comes to Kitchen Remodeling Carson. We start by chalking out a detailed plan, so that we leave nothing to chance. We bring you on board with our designers and help you choose the right kitchen cabinets, flooring, the right appliances and other things that would make your kitchen 'picture perfect'. We would then focus all our energy to execute the project and finish it on time. So, get in touch with the true leaders in Kitchen Redesign Carson and experience the difference.
Bathroom Renovation Services Carson, CA
Progressive Builders, Inc are also experts in Bathroom Remodeling Carson. We have helped a number of homeowners in Carson to turn their boring old bathroom into something amazingly stylish. We understand what our users / customers want and therefore we try our best to satisfy the desires of our clients to the fullest in the most professional manner by understanding their preferences and knowing their budgetary concerns.
Redesigning a bathroom comes with its own unique set of challenges. Being one of the most experienced companies in the field of Bathroom Redesign Service Carson, we know how to meet those challenges head on! We would design you a stunning bathroom without doing any unnecessary damage to your house or property. We would also effectively manage the available space and the existing waterlines and ensure that you get the bathroom that you always dreamed of! So, get in touch with us today and let's design you the perfect bathroom for your home.
Garage Conversion in Carson
Are you tired of complaining that there is not enough usable space in your home? Well, why don't you go for garage conversion in Carson. Progressive Builders LA are a professional garage conversion company in Carson and we would help you get more of your garage. Whether you are looking to turn your garage into your home office, a thoughtfully designed workshop or studio, or even an additional bedroom, we would help you out.
Progressive Builders is one of the most professional garage conversion contractors in Carson. We have a dedicated team made up of professionals who would have a good deal of experience in building garage conversions. We would take a look at your garage and then come up with unique plans that would focus on optimal use of space. If you want any additional amenities, or fixtures,then we would help you get it done. So, get in touch with a professional garage conversion company in Carson, and we would ensure that you can get more from your garage. We would ensure that you can rethink your garage without any hassles.
ADU Construction in Carson
Do you want to build a separate space for your in-laws who are moving in with you? Do you need to get a new room for your studio or office? In such situations? You need to look at building an ADU for your home. An Accessory Dwelling Unit or an ADU is a great way to solve all the issues. It is also a great way to earn extra income by putting it up for rent. There is so much more that you can do with your ADU. However, to achieve those goals, you would need to get in touch with a professional ADU construction company in Carson.
Progressive Builders is a professional ADU construction company in Carson and we would help you build the ADU of your dreams! Building an ADU involves a lot of different stages. In the first stage,you would first have to plan for every single detail of the project, based on your needs, requirements on one side and the budget and space on other. After that, you would have to get permits from relevant authorities. Then comes the actual building part. As professional ADU construction contractors in Carson, we would help you with it all and ensure that you don't have to worry about anything.