Solar Energy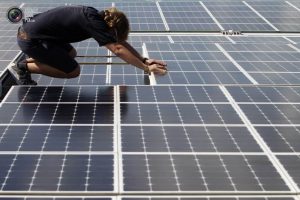 Progressive Builders, Inc has vast experience in the field of installing, maintaining as well as repairing solar panels at homes and offices through its team of highly experienced engineers who are trained in renewable energy system installation and repair services, especially in the area of solar panels. We have a full fledged and dedicated team of top solar panel installers West Hills who use the most advanced methods of solar panel installation that helps in lightening up your house and in the process, you save on your energy bills every month and at the same time give back something to the nature by using this "Green" form of energy. We possess considerable experience in installing as well as solar panel repairs West Hills through our formidable team of professionals who are skilled to perform any given task in the most professional manner and in a cost effective way. Thus it is easy to go for one such 'Green energy' installation service at your home through a professional like us who has got years of experience to perform the task for you.
Installing Solar Panels in Los Angeles through Professionals
We have mastered the art of solar panel installation in West Hills and you can trust our services blindfolded as we are into this exclusive arena of "Solar Energy" services for years, installing, repairing and maintaining mega solar panels that ensures a continuous supply of electricity / energy to your home, office or factory. A disruption of energy service at any of these places can literally put everything to a grinding halt and it is here when we come up with our expertise in the area of solar panel repair and installation. Our dedicated engineers can help you in the process of installing one such panel at your home in the shortest possible time and in the most cost effective manner. So, look for our exclusive services in the area of solar panel installation West Hills and repair as well as professional maintenance services that we perform with utmost perfection and in the shortest possible time.