Calabasas, CA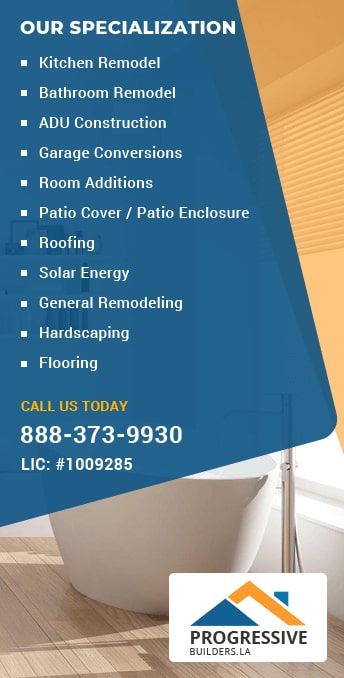 Calabasas is known to be one of the most happening places in the Los Angeles county. The spirit of the city is hip, trendy, modern. So, if you want to make sure that your home becomes a perfect fit in the community, then you would need to renovate your home with the latest trends. Progressive Builders, Inc is a professional home remodeling company in Calabasas. Thanks to our years of experience in the industry, we are aware of the latest trends and that helps us to remodel your home in a stylish way.
Kitchen Remodeling in Calabasas ,CA
What makes a modern kitchen? Well, minimalism is all the buzzword nowadays. Neutral colors,engineered wood, ambient lighting is all some of the most widely used elements in a modern day kitchen. However, when it comes to kitchen remodeling, there is no one size that fits all. So, it all comes down to your individual tastes.
At Progressive Builders, Inc, we offer professional kitchen remodeling services in Calabasas, and we always keep ourselves updated with the latest trends. At the same time, we also look for insights from you. Based on what you want, we would prepare the designs and then when you approve them, we would begin the work. So, what are you waiting for? Contact the most kitchen remodeling contractors in Calabasas and give a stunning makeover to your kitchen.
Bathroom Remodeling in Calabasas, CA
The bathroom is the place where to go to take a shower after a hard day's work. Therefore, the bathroom needs to be your personal place for nirvana. At our bathroom remodeling company in Calabasas, we aim to deliver that. We have a team of some of the most highly skilled and experienced professionals for bathroom remodeling in Calabasas, and they would know what it take sto give your bathroom the perfect touch of relaxation.
As one of the most experienced bathroom remodeling companies in Calabasas, we are capable of deal with every challenge. Whether to looking to build a modern shower enclosure, setup an alcovebathtub or get a classic 20s vanity made of pure hardwood, or anything else that you can possibly imagine, we would get it done.
Garage Conversion in Calabasas
At Progressive Builders, Inc, we are all about using the space of your home in a more effective way. To do that, one of the services that we offer is garage conversion in Calabasas. We are one of the mostefficient garage conversion contractors in Calabasas and we help you to get more out of your garage.At our garage conversion company in Calabasas, we offer a wide range of services that would help you to transform your garage into something more useful.
We can help you turn it into a home office, a studio, a fully-equipped workshop, an additional bedroom and what not. We would make sure that you get what you want without wasting your time and money.
ADU Construction in Calabasas
Accessory Dwelling Units or ADUs are a great way to increase the living space in your property. An ADU is like a mini-home, that comes complete with all the amenities like kitchenette and a bath. You can use your ADU as your in-law space or even earn some extra income from it by putting it up for rent. Now, if you want to do all that, then you would need to take the help of professional ADU construction companies in Calabasas.
Progressive Builders, Inc is one of the most experienced names in the business and we have been helping people build ADUs for over the past decade. We will not only make sure that you have all the amenities that you wish for, but also ensure that they are structurally strong and conforms to all the building codes and has all the permits that you need.