Hawthorne, CA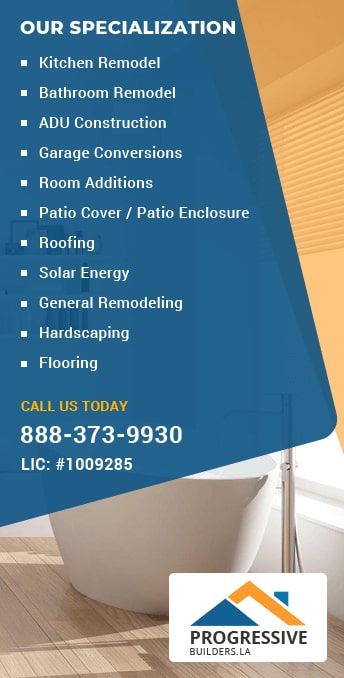 Hawthorne in Southern California is five miles away from the Los Angeles International Airport and today it is one of the most important commercial and cultural centers in the entire state of California. It is home to more than 90,000 inhabitants and it is a truly happening city in the Los Angeles county region. Progressive Builders, Inc is serving the home building needs of individuals in this city and has earned the distinction of being the preferred home remodeling company in Hawthorne, CA as it has got years of industry specific experience in successfully executing all home renovation projects with utmost perfection and precision. Our strength lies in our teamwork, experience and on-time delivery of projects that help us earn the trust of our customers in the Los Angeles county region. We have a dedicated team of skilled tradesmen apart from interior designers, structural engineers and professional remodelers who possess huge skills in redesigning a home from the scratch to the exact specification of a client. We are the undisputed leaders and specialists in kitchen remodeling, bathroom remodeling, landscaping, roofing, patio remodeling and garage conversions in Hawthorne, CA as executed by our team of workmen, builders and craftsmen who are deft at it. Today, we are regarded as the top kitchen and bathroom remodelers in Hawthorne who have got the requisite skills to transform a living area into a brand new, luxurious and spacious residence.
Kitchen Remodeling Services Hawthorne, CA
Kitchen redesign can be fun and we are here with our expertise since we are rated as the top kitchen remodeler in Hawthorne, CA creating custom or bespoke kitchens Hawthorne for our esteemed clients who have varied taste and preferences. Our Hawthorne kitchen remodeling services involves a lot of careful planning, study, expert knowledge about latest products, new kitchen design ideas in the form of contemporary style kitchen and finally the execution of the task that requires exceptional skills. As the leading home redesign company, 'Progressive Builders, Inc' looks into all aspects of kitchen redesign services by taking into account the best building materials and latest kitchen appliances that is sure to create a 'jaw dropping' effect after the renovation work is complete. We are here to give your kitchen or dining area that dazzling new and shining look that is sure to last for years to come and that perfect fits your limited budget as we are a cost effective kitchen remodeler in Hawthorne.
Our expertise in kitchen renovations Hawthorne through the use latest techniques and materials in our work, help in the creation of smart kitchens that is replete with the best quality flooring tiles & laminates, marble countertops, kitchen fittings, modern appliances and accessories that is sure to increase the aesthetic appeal of a cooking area to many folds. At "Progressive Builders, Inc", we have an exceptionally talented team of kitchen remodelers in Hawthorne who pay special attention to project details and use the latest methods of redesign that goes on to transform an entire space by giving it an exquisite appeal that is simply unmatched on every count and unique in style.
Bathroom Remodelers Hawthorne, CA
Our expertise in bathroom remodeling services in Hawthorne are known to all in the Los Angeles county region as we are a name to reckon in the exclusive arena of home redesign services in California. Call us at 888-373-9930 and we will be more than happy to answer your queries regarding bathroom remodeling Hawthorne, CA and all other associated services. We have roofing experts and landscaping professionals too in our dedicated payroll and this makes us the preferred choice among our customers who look for diverse services in the area of home redesign and home renovation. Here we provide a detailed analysis and define the scope of your project. We help establish and fine tune a realistic budget for you, both in terms of kitchen and bathroom redesign in Hawthorne.
Today, we take pride in calling ourselves one of the top bathroom remodeling contractors Hawthorne as we execute and create masterpieces for our clients by reclaiming unused spaces in their home and giving it a complete makeover. After the design approval and once the agreement is signed, our professional bathroom designers, can help you get that brand new, luxurious and stylish look for your bathroom in no time. By making use of the best quality materials in the form of marbles, tiles, granite, faucets and various other bathroom fittings, we produce that refreshing and rejuvenating look for any dwelling area that has long been neglected and deserves a 'makeover'. It is exactly here when we step-in with our proven skills and expertise in the area of bathroom remodeling services Hawthorne and redesign it to perfection in the shortest time and in the most cost effective manner. Look no further as we are here to transform the very look of your abode in a professional way.
Garage Conversion in Hawthorne
Progressive Builders, Inc helps people to utilize the space in your home more effectively. One of the most unused or under-utilized space at your home is your garage. We offer professional garage conversion services in Hawthorne, that would ensure that you are able to utilize the space in your garage in a more effective way.
When it comes to Garage Conversion in Hawthorne, the opportunities are limitless. Thanks to the services of our garage conversion company in Hawthorne, you can turn your garage into something beautiful and more exciting. We can help you turn it into a home office, studio, home gym, private theater, workshop, additional bedroom, greenhouse and what not! You can rest assured that we would take care of everything so that you don't have to worry about anything. Contact the most trusted garage conversion contractors in Hawthorne and give the perfect makeover to your garage.
ADU Construction in Hawthorne
Building an Accessory Dwelling Unit or ADU might be the perfect addition that your home needs. If you are looking to add more living space on your property, then this might be the right option for you. You can use it as your own private living area, or like thousands of Americans across the country, you can also use it as your in-law space. If you build your ADU in the right way, then you can also put it up on rent and earn additional income from it.
To realize such a potential, you would need to get the services of a professional ADU construction company in Hawthorne. Progressive Builders is one of the most qualified ADU construction contractors in Hawthorne and we have been building quality ADUs for over a decade now. Our team of experts would visit your home and talk with you about the things that you wish to have. We would plan for every single detail, so that you don't have to worry about a thing.