West Hills, CA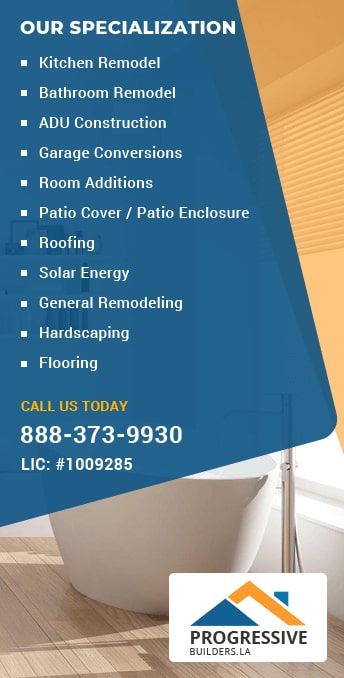 West Hills is one of the most affluent neighborhoods in the Los Angeles county region and it is here you find some of the finest residences and commercial buildings sitting beautifully on both sides of boulevards lined with shady trees. It is exactly here when residences require expert kitchen remodeling services that is of the highest quality we are always ready with our top home renovation professionals who are experts in this exclusive service domain. We employ a dedicated team of kitchen remodelers and bathroom remodelers in West Hills, CA who provide impeccable home renovation and redesign solutions that is worth your hard earned money and the end result is a dazzling, shining and swanky new kitchen or bathroom space that truly deserves an applause. You could well give your neighbors a moment of envy as they would simply be bowled over by your luxurious interiors after one such professional makeover that is of truly international standards. At 'Progressive Builders, Inc' we are here to turn your dreams into reality and provide a better living through our expert home redesign solutions that is 'jaw dropping' by every means.
Kitchen Renovation Experts in West Hills
Your kitchen area needs a makeover after long years of service and you have certainly landed at the right place so that we can take over from here and bring that perfect shine for that lackluster looking kitchen space of yours which was neglected for long. We are specialists in kitchen renovation services in West Hills as we employ some of the modern methods of kitchen redesign that help in the creation of your dream kitchen which is sleek, stylish, ergonomic and exceptionally functional through the use of cabinets, large sinks, ventilation, a variety of faucets, fittings and accessories. Our expertise lies in creating a unique and modern kitchen for you by using the finest materials as it is a kitchen where you love to spend the maximum hours, creating delicacies for your family in a spacious and luxurious ambiance. We specialize in designing kitchen counter-tops, installing wooden or laminate flooring, designing cabinets made from hardwood, marble stone installation, plumbing and all other types of handyman services as required in a kitchen remodeling West Hills project.
Whether you are looking for a contemporary design or a conventional look, we are here with our expertise in the exclusive arena of kitchen redesign West Hills services through our professionals who command years of experience. Our kitchen remodelers West Hills and home architects take into account every single detail starting from measurement, space, material, color, stone texture and appliances that would be a part of your cooking and dining area and we perfectly go by your preference and choice. Whether you need to know down a wall and reclaim an existing space within your home or want to create more partitions within, we are up to the task. We certainly do not force anything upon you that is not to your liking.
Bathroom Redesign Services in West Hills, LA
Our team has gathered exceptional expertise in the area of bathroom remodeling West Hills through our proven methods of restoration that takes into account every single detail that impacts the aesthetics of your bathroom. A bathroom furnished with the best gadgets, vitrified / glazed tiles and stones is certainly eye-catching and soothing. Even the placement of lighting systems can be upgraded to provide a spic and span look that is desired by all. We are an insured company in the region of Los Angeles and our high-end bathroom redesign West Hills services certainly stands out and gives your home decor, a complete transformation that is visually appealing and transforming. Progressive Builders, Inc are experts in redesign, remodeling and renovation that has few parallels across LA and today we are rated among the top bathroom renovation experts in West Hills, LA.
Today, we proudly serve the Los Angeles county region through our experienced professionals who are not only experts in kitchen and bathroom remodeling but also in all other areas of home renovation services such as landscaping, roofing, loft conversion, garage conversion, solar panel installation, patio remodeling etc. Come to us and we will deliver the best results in the shortest time that is to your liking.
Garage Conversions in West Hills
We also offer professional services for garage conversion in West Hills. We have more than a decade of experience as working as garage conversion company in West Hills.
Over the past decade, we have helped residents to convert their garage into home gym, home office, home theater, library, game room and a variety of other spaces. We analyze your garage and then come up with designs. After you approve the design, we would begin the work and end it on time. We would ensure that no damage is done to your existing garage. So, contact us today and get the right garage conversion services in West Hills.
ADU Construction in West Hills
Accessory Dwelling Units or ADUs are like a small-home that is build on your property but detached from the main property. In most cases, it comes complete with kitchenette, bath and bed. There area lot of other things that you might want in your ADU. No matter what you might want, we would help you out. Progressive Builders is a professional ADU construction company in West Hills and we would offer customized solutions at affordable prices.
The first thing that you need to do is to plan for building ADU. Do you need multiple levels? What amenities that you need? Do you need a separate kitchenette or would a single space would do? You would need to look at these things and make decisions. Our team of professionals for ADU construction would sit down with you and help you make the right call. Call us today and hire the most experienced ADU construction services in West Hills.