Room Additions Create Spacious Homes for a Luxurious Lifestyle
---
Progressive Builders, Inc is here with our vast expertise in redesigning homes to reclaim any wasted space and convert it into a modest, yet spacious and luxurious abode with the custom design features. Our team can easily add extra rooms to your house or convert garages or lofts into meaningful and aesthetically designed living spaces that perfectly matches your needs of your budget.
Our professional home remodeling team will come to your house, assess your property, understand your budget, and deliver you with a complimentary quote. We partner with some of the leading materials and appliances suppliers to provide quality products that you expect in a new room addition. This results in a beautifully modified home with all the modern amenities.
General Contractors at Your Service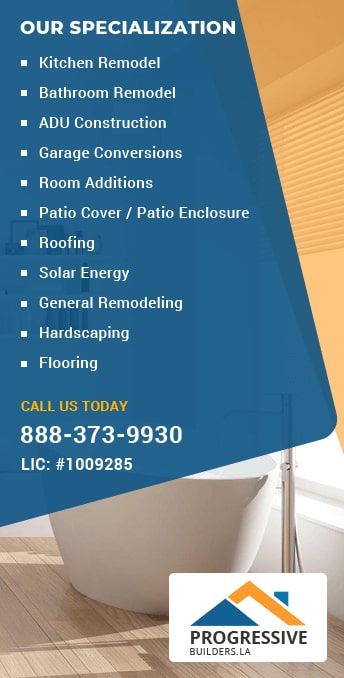 Progressive Builders, Inc are a force to reckon in the area of room additions and general remodeling services in Los Angeles. When it comes to room additions and space reclamation; our engineers, designers, and architects flawlessly do everything. We perform an extension that's according to your house architectural style and by keeping in mind the space limitations and restrictions which do create an impact on the overall design of your dwelling space.
House owners are always in the lookout for additional areas to fit in more family members, appliances and gadgets as the need for space increases every passing day. That is why we create spacious bathrooms, living rooms, kitchens, lofts, garages and more through the process of knocking down irrelevant wall partitions or through reclaiming outdoor spaces or your garage area. You say the word and our team of skilled professionals is there to deliver their expert room additions, which are highly professional and affordable.
Progressive Delivers Stunning Remodels Based on Any Budge
Progressive Builders, Inc strives to make your entire home renovation process as easy and affordable as possible. Every room addition is kept comparatively low, with a close eye on our clients budget. Contact or call our office in Canoga for your free estimate, (888) 373-9930.