Moorpark, CA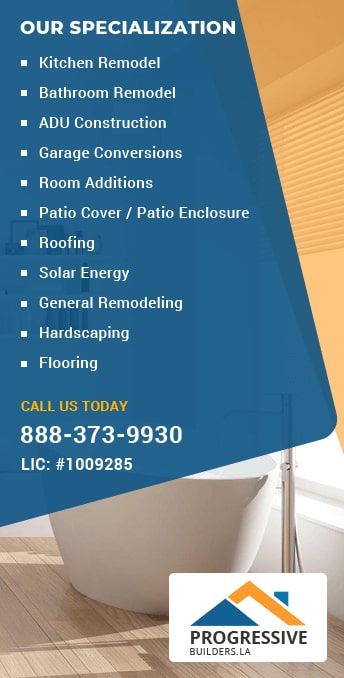 The city of Moorpark in Southern California was founded in the year 1900 and with a population of over 35000, this city in the Ventura County is certainly a place to be. This city is well connected with a Ventura County rail line as well as a mass transit bus system. A majority of population in this city resides in large expanse of land and their homes are lavish and therefore the requirement of a home renovation specialist is bound to arise at some point of time or other. It is exactly here, Progressive Builders, Inc comes with its vast experience in the field of home remodeling and house renovations Moorpark services as carried out by our leading craftsmen who meticulously plan any home redesign activity with the best of materials and resources available in its arsenal. The entire project overlook, coordination, supervision, design from the conceptualization stage to the execution phase is carried out by our engineers and structural designers who keep the process simple yet functional and also take your opinion in regards to the design that you have in mind and also the budget and cost factor that needs to be taken into account while designing a specific area of a home.
Kitchen Redesign Solutions in Moorpark
Our experts come in with their technical skills and knowledge in the area of kitchen remodeling service that helps households in the Moorpark region with a bespoke style kitchen that has all the goodies and stuffs. An aesthetically designed kitchen with the best functional features and appliances like wall oven, microwave, dish washers, countertops, wooden storage cabinets, flooring, faucets and sinks adds to the beauty and style. Our kitchen remodeling Moorpark experts come in with their expertise and design a kitchen which has countless features that are functional and practical, giving your kitchen that vibrant look with additional space that is reclaimed from within the house. We have expert tilers and masons who looks into the installation of Italian tiles and marbles that give an exquisite look to your kitchen.
When we undertake one such redesign activity, the only thing that resides in our mind is quality of work that ultimately satisfies our customers who looks for 'value for money' service. The entire design of a kitchen and the final execution may take some days which might look lengthy but at the end, you are the owner of a smart looking kitchen space that has been refurbished by using the best quality materials, making the entire kitchen renovation service Moorpark, truly worth viewing. A kitchen is a place where you spend hours and our remodelers spare no effort in giving that truly classic look to your kitchen space by fitting it with the best building stones and installing the latest appliances that make your cooking experience a truly enjoyable one.
Bathroom Renovations Moorpark, CA
You can get in touch with our company professionals who can certainly help you enjoy a truly aesthetic bathroom design that perfectly matches with your needs. Our remodelers are one step ahead when it comes to creating bespoke bathroom designs to perfection as they use some of the most modern design trends. In our bathroom redesign process, we use quality building materials in the form tiles, marbles, granite stones for countertops as well install branded bath fittings that are arguably the best. The whole process of bathroom redesign is overlooked by our experienced supervisors who provide their expert suggestions to the workmen after taking feedback from clients about any Moorpark bathroom remodeling service and this ensures transparency and flawlessness.
Certainly your bathroom renovation requires a masterful stroke and we are here with our expertise to help you get a spacious and aesthetically designed bathroom that has been refurbished according your taste, likes and preferences. The materials used and the quality of work can never be compromised because we value your money and this is the reason why we have a lot of admirers in the region of Moorpark where there is a sizeable demand for affordable yet quality bathroom renovation. So, if you too are looking for bathroom redesign service in Moorpark,it is Progressive Builders, Inc that comes to the minds of all.
Garage Conversion in Moorpark
We would also help you get more from your garage by offering you innovative services for garage conversions in Moorpark. As a professional garage conversion contractor in Moorpark, we help you to convert your garage into an additional bedroom, home gym, studio, office, library, recreation space, game room, kids play area or any other way you want to be used. Our professional team would understand your desires perfectly and give you the right services at the most affordable prices. So, get in touch with us and get the right garage conversion services in Moorpark.
ADU Construction in Moorpark
When you are building ADUs or Accessory Dwelling Units, you need to take a look at a lot of different things. This is the reason why you need to get the services of a professional ADU construction company in Moorpark. Done Right Home Remodeling is a professional home remodeling company and we have been helping residents to build amazing ADUs that stand the test of time and give you a comfortable living experience
As a professional ADU construction contractor in Moorpark, we take into consideration your dreams,desires and wishes. We would always keep you updated so that you know what are we doing. We would ensure that your ADU comes complete with kitchenette, bath, or any other amenities. So, get our ADU construction services in Moorpark, and build the right Unit for your home.