Hermosa Beach, CA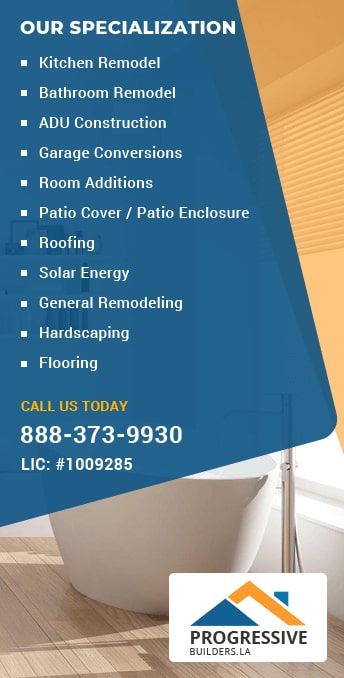 Hermosa Beach is a beachfront city in Southern California and it is a popular weekend holiday destination with a host of beach activities for tourists who come to enjoy a great weekend after a hectic schedule. Though this city has a meagre population, they enjoy a great lifestyle and it is "Progressive Builders, Inc" who help them with a complete home makeover solution in their times of need. Our kitchen and bathroom remodeling experts in Hermosa Beach help you get a swanky new and dazzling living space, be it a bathroom or a kitchen, incorporated with the best luxury features that is of truly international standards. Our expertise goes well beyond bathroom and kitchen remodeling services in Hermosa Beach, CA as we also excel in roofing solutions, landscaping, patio remodeling, garage conversion, loft conversion etc. Think about any home renovation activity and we are here with our expertise in the exclusive arena of kitchen and bathroom redesign Hermosa Beach and beyond. We use the latest home renovation techniques that is sure to impress upon our clients and the time taken to execute any such credible home renovation work is considerably less. We make an extensive study about your living space, understand your specific design requirement, know your exact budget that you have kept aside for one such renovation activity and then go about the actual task of home remodeling which is time taking and cumbersome.
Kitchen Remodeling Experts Hermosa Beach
Our team of kitchen remodeling experts in Hermosa Beach are all highly dedicated professionals in their individual work domain and they go about devising the best action plan and design for concept kitchens. We help in the making of a bespoke or a custom kitchen that is exclusively customized according to your specific needs. Therefore, we are regarded as one of the preferred kitchen remodeling Hermosa Beach experts through our exceptional skills that we have gathered over the years. In the Los Angeles county region, we are the first choice among individuals who look for a kitchen space redesign or redevelopment since our tailored services matches and fits any budget. We are very understanding when it comes to your financial constraints and thereby work upon a kitchen redesign plan that fits accordingly.
Our kitchen remodeling experts in Los Angeles are extremely passionate about their work and they go about creating wonderful concept kitchens for homes and give your interiors that aesthetic look that is long overdue. Our expert team of kitchen redesign contractors Hermosa Beach leave no stone unturned in their effort of producing exceptionally functional and stylish kitchen design that truly transforms your home and lives up to your expectations. So, if you're looking for the most professional kitchen renovations Hermosa Beach, it is we who can provide you with your choice of design that is ultra modern, stylish, spacious and luxurious.
Bathroom Remodeling Hermosa Beach, CA
Progressive Builders, Inc is the top bathroom remodeling expert in Hermosa Beach, CA as we employ some of the best men and material for any such extensive renovation work that gives a new lease of life to a bathroom that is in need of a complete overhaul or remodeling. Our professionals, first carefully assess the situation, understand your needs and then go about producing a perfect bathroom design that blends with the decor of your home. Utilizing your existing unused spaces, we create a dream bathroom through the use of the best quality materials in the form of tiles, marbles and granite stones that adds to the beauty. Our bathroom remodeling contractors Hermosa Beach are regarded as one of the best in California state as we have the resources, expertise and skills to deliver any project on-time and with no cost overruns.
In the process of our bathroom remodeling services Hermosa Beach, we use the latest methods of bathroom redesign by using the finest quality marble stone, granite stone, vitrified tiles and bathroom fittings, especially luxury faucets that leaves a lasting impression and goes on to create a 'wow' effect. We have a full fledged team of masons, carpenters and plumbers who are expert in the art of bathroom renovation and bathroom redesign that is of truly international standards and this is something we can boast of proudly. Call us at (888) 373-9930 and we will answer all your queries regarding your bathroom renovation needs in Hermosa Beach, CA.
Garage Conversion in Hermosa Beach
Progressive Builders, Inc offers garage conversion services in Hermosa Beach which helps you to utilize your garage space more efficiently. We are one of the most experienced garage conversion contractors in Hermosa Beach, and we have been helping people get more from their garages.
When it comes to garage conversions in Hermosa Beach, your wish is our command. No matter what you want to do, the team at our garage conversion company in Hermosa Beach will make it come true. So, whether you want to turn your gym into your home office or your personal gym or anything else, our professional garage conversion company in Hermosa Beach would help you out in the right way.
ADU Construction in Hermosa Beach
The city of Hermosa Beach is a fun and exciting place to live. If you own a residence in this amazing place and you want to increase the living space of your home, then one of the best things that you can do would be to go for ADU construction services in Hermosa Beach. Progressive Builders is one of the most qualified ADU construction company in Hermosa Beach and we help you to build the right ADU that meets your needs, without going overboard with your budget.
We are one of the few ADU construction companies in Hermosa Beach to offer specialized services.This means that you get the solutions according to your needs. If you want to build an ADU for rental, then we would ensure that your ADU has everything that helps you get a higher rent. If you are building it as an 'in-law' space, then we would ensure that the ADU has certain features which makes it more accessible for the elderly. So, get in touch with reliable ADU construction contractors in Hermosa Beach and build the perfect ADU for your needs.