Monrovia, CA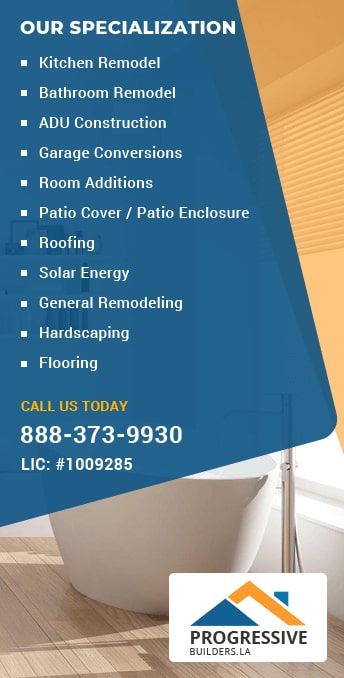 At 'Progressive Builders, Inc', our Monrovia home remodeling services are second to none as we have attained the highest degree of perfection in the area of home redesign and home renovation services in Los Angeles through our team of highly experienced professionals. We excel in all types and size of home renovation services in Monrovia, CA and that involves activities such as patio remodeling, landscaping, roofing, garage & loft conversion, solar panel installation & repair and much more. We are one of the leading home remodeling contractors in Monrovia, offering a complete new range of bathroom conversion and kitchen remodeling solutions that is perfectly in lieu with the specific requirement of clients and which is executed in a cost effective manner. We remodel houses, kitchens, bathrooms, patios and reclaim lost and unused spaces within your house and utilize them to the fullest. We are specialist in both interior and exterior redesign services and our tradesmen are highly skilled and proficient in this exclusive arena of home remodeling and home renovation.
Kitchen Remodeling Contractors Monrovia, CA
We have a dedicated and highly efficient team of kitchen remodelers in Monrovia and they are all exceptionally skilled, producing some of the most elegant kitchen designs, replete with wooden kitchen cabinets, faucets, sinks, counter-tops that are stylish and functional. An elegant looking kitchen area increases the aesthetic appeal of your house and it is our designers who execute a flawless kitchen remodeling Monrovia design that is to the liking of our clients. We make the whole process of kitchen redesign extremely transparent and when the final work is executed, it is worth viewing. We help transform your kitchen into a classic living space that is extra spacious and luxurious, where you would like to spend hours cooking your favorite dish and serve it hot to your guests.
Our kitchen renovation Monrovia experts have attained a high degree of professionalism, and we are here to offer you a complete kitchen transformation and kitchen makeover solution that is simply outstanding in terms of craftsmanship, perfection and style. The materials used in the process is of the highest quality, be it the marble stone, granite stone or cabinets and the end-result is a classic looking kitchen area that is replete with the best of stuffs. If you are looking for highly professional Monrovia kitchen remodeling contractors, Progressive Builders, Inc is one such name to look out for.
Bathroom Remodeling Monrovia, CA
Get a flawless bathroom redesign in Monrovia from "Progressive Builders, Inc" which is the leading name in the world of bathroom remodeling services Monrovia as we have a highly experienced team of bathroom remodelers in the form of designers, masons, plumbers and carpenters who execute any given task to perfection and with precision. There is no room for errors when we execute a professional bathroom renovation service in Los Angeles and our high profile clients have therefore placed their trust upon us.
Today, we are rated among the top bathroom renovation experts in Los Angeles county region and this is only because of our 'on-time' project completion, cost-effectiveness and quality of men & material used that definitely has an impact on the overall bathroom remodeling work. Our professionals travel to your doorsteps, have a look at your interiors, conduct a feasibility study and then carry out the most professional bathroom redesign service in Monrovia, CA that has few parallels in the entire state of California. Call us for a free consultation at (888) 373-9930 now!
Garage Conversion in Monrovia
Progressive Builders, Inc also offer garage conversion services in Monrovia. Garage conversions are a great way to get more from the unused space in your garage. Thanks to our innovative team of professionals we would help you to transform your garage, into something that is aesthetically beautiful and structurally useful as well.
We have worked as a garage conversion company in Monrovia for over a decade now and we have helped people transform their garage into spaces like additional bedrooms, home office, library,greenhouse, home gym, studio, workshop and other exciting areas.
Our focus is always on meeting the needs of the customer. That's why at the beginning we sit with you to understand what the need is and then work towards fulfilling them. So, get in touch with us and get the help that you need to transform your garage.
ADU Construction in Monrovia
Progressive Builders LA offers you professional ADU construction services in Monrovia. ADU or Accessory Dwelling Units, are a great way to get to enhance the space at your home. An ADU, if built the right way, can be used in various ways. You can use it as your in-law space, as an additional living space for you and your guests or if you want additional income, you can also put it up on rent.
Progressive Builders, Inc is one of the most experienced ADU construction contractors in Monrovia and we would offer you the right services that would help you to build an ADU that would meet your needs in the most perfect way. When planning to build your ADU in the right way, you would need the expertise of the true professional. So, contact our professional ADU construction company in Monrovia and get the services that you need to build the right ADU for your home.