Huntington Beach, CA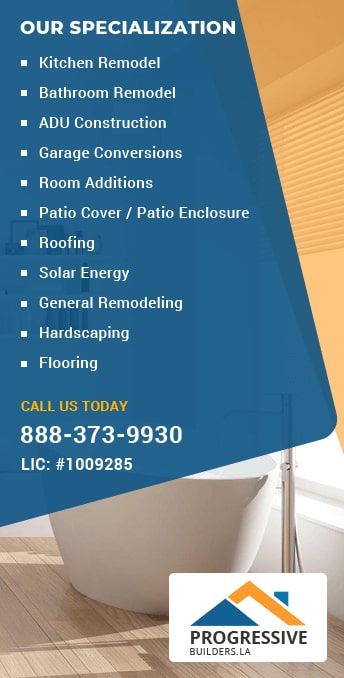 In the Huntington Beach area, "Progressive Builders, Inc" has earned the trust of customers as it is the foremost name in the area of complete home renovation solutions as it is the premier home remodeling company in Southern California region, offering the best in renovation, remodeling and redesign services that is of the highest quality. Our kitchen and bathroom remodelers in Huntington Beach, California have years of experience, exclusively in the domain of home remodeling services, and they go about performing the task of home redesign in the most detailed and extensive manner, leaving no room for errors. We are experts in roofing, landscaping, remodeling, solar panel repair, loft & garage conversions Huntington Beach and in a variety of allied services that is related to the redesign of your home interiors as well as exteriors. Today, we are a force to reckon in the home renovation front exclusively in the Orange County region by the virtue our professionals who are the best in Southern California.
Kitchen Remodeling Experts Huntington Beach, CA
Our expert kitchen remodelers in Huntington Beach are way ahead when thought in terms of quality, adaptability, affordability and on-time completion of work and this has helped us earn the much deserved reputation of being the most cost-effective home remodeling service provider in Huntington Beach, California. We have a team of exceptionally talented kitchen remodeling Huntington Beach experts who are always at their toes, ready to execute any given task to perfection and to its completion. We follow the most technically advanced methods of kitchen restoration and renovation that ensures minimum wastage of materials and maximum reclamation of space that is only possible through sound engineering. So, if you are looking for a highly proficient kitchen remodeling expert in Huntington Beach, it is our skills that go on speak about our professionalism.
We are rated among the top Huntington Beach kitchen remodeling experts who possess lots of experience in the field of home kitchen remodeling services that is sure to impress any homeowner who is looking for the best in terms of design and quality of work. We rebuild kitchens with advanced materials, gadgets, appliances and storing cabinets and also take into account vital elements such as space reclamation, color selection and innovative design that is sure to impress everyone. Progressive Builders, Inc also possess rich expertise in the area of garage conversions, loft conversions, patio landscaping and roofing solutions as we are also regarded as the top roofing contractors Huntington Beach, CA apart from professional kitchen remodeling solutions, where we specialize in.
Bathroom Renovations Huntington Beach, CA
Our company takes immense pride in calling itself the king in the area of bathroom remodeling Huntington Beach, California as our experienced professionals leave no stone unturned in executing any given task to perfection and in a said time. They visit your home, request for a quote and get a first hand experience about your actual interior design needs and then go about remodeling your bathroom according to your exact specifications. We have served several hundred homeowners in the Huntington Beach region and they come back to us again for their diverse needs. Our expert bathroom remodelers in Huntington Beach are in the form of plumbers, masons and carpenters who best understands your needs and executes any given task to perfection with the aid of modern technology that is advanced.
Look for our highly efficient bathroom renovation Huntington Beach professionals who are armed with the best equipment, machinery and devices to execute any bathroom remodeling project to its conclusion and in perfection. The beautiful implementation and design adds to the exuberance and aura of your existing home decor and our experienced bathroom remodelers very well understands this fact and ensures a complete bathroom remodeling solution that provide a luxurious, spacious and dazzling new touch to your bath area.
Garage Conversion in Huntington Beach
When you are looking for garage conversion in Huntington Beach, you need to get the help of the experts as they would make the process easier and you would be able to get more from your garage.At Progressive Builders, Inc is a professional garage conversion contractor in Huntington Beach, and we have been helping people to reinvent their garage for over a decade.
We start with understanding what you want to do with your garage. We have helped people to convert their garage into home office, home gym, studio, workshop, library, game rooms, additional bedrooms, private theater and much more. Just tell us what you want and we would get it done. We would use the right materials and plan for every single detail. So, get the services of the most innovative garage conversion company in Huntington Beach and get more from your garage.
ADU Construction in Huntington Beach
Accessory Dwelling Units or ADUs are a great way to enhance the value of your property. It would not only increase the space of your home, but also increase the value in the property market.However, there are a few things that you should do. One of the most important things that you should do is to take the help of a professional ADU construction company in Huntington Beach.
So, why should you go for professional ADU construction company in Huntington Beach? Well, when you are going to build an ADU, there are a lot of things that needs to be done. You need to have a structural plan and get the plan approved by the authorities. There are some permits that you need to get before you get the work done. Progressive Builders, Inc is a professional ADU construction contractor in Huntington Beach, and we get the job done in the right done.