Culver City, CA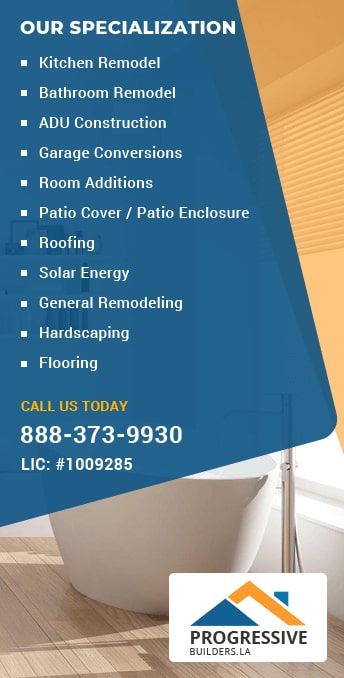 In the beautiful Culver City, 'Progressive Builders, Inc', takes immense pride in helping homeowners with the most professional building and home remodeling solutions that are a cut above the rest and we are always there to help you get a customized dwelling space according to your requirement. Our home remodelers in Culver City has years of experience in redesigning and renovating an entire living space, be it patios, garages, kitchens and bathrooms by using the most advance remodeling techniques that is trending globally. Our interior designers, structural engineers, carpenters, masons and plumbers takes into account every single detail while designing homes and this is evident from the projects that we execute for our esteemed clients in Culver City, CA and beyond. Your kitchen and bathroom deserves that swanky new look and we possess the expertise, resources and skills to deliver that brand new look for your home interiors by using superior quality materials that can be compared to the best in the world.
Kitchen Remodeling Services Culver City, CA
The term 'kitchen remodeling' and 'kitchen redesign' in Culver City has become synonymous with 'Progressive Builders, Inc' as we are a well known name in the exclusive domain of kitchen renovations Culver City, CA. We employ a team of skilled professionals who execute any given project to its conclusion in a record time and in a said budget which is to the liking of all parties concerned. In our kitchen redesign process, we employ the latest techniques and use the best materials, be it tiles, marbles, granite, laminates, faucets, glasses, wooden cabinets and miscellaneous other appliances that give your kitchen that extra shine and gloss which brings about a 'jaw dropping' effect. The process is simple. First, we have a look at your space and then go about chalking a concrete execution plan whereby we recover and reclaim unused spaces within your home interiors adjacent your kitchen area and incorporate them into your existing kitchen space, making it look grand, spacious and luxurious. We provide you with a list of kitchen design catalogs and that makes your selection process easy and cut out. You can choose from a traditional English kitchen design to a contemporary American kitchen design, depending upon your taste and liking.
Think about kitchen remodeling Culver City, CA and it is "Progressive Builders, Inc" that comes to the minds of all as we possess special skills in delivering a brand new kitchen with the most modern and contemporary looks in a record time span. Our designers and workmen are highly motivated in executing kitchen redesign Culver City services through the most modern methods of interior renovation that has few parallels across the length and breadth of California. If you are looking for that professional kitchen cabinets Culver City installation, we are the first and last name in the Los Angeles county region.
Bathroom Renovations Culver City, CA
Similar is our expertise and skills in bathroom remodeling Culver City and it is known to all in the Los Angeles county as we are into this exclusive service domain for years, executing a comprehensive range of small, mid-size and mega projects with utmost professionalism and in a time bound as well as in a cost effective manner. The design and blueprint is well laid out in advance by our specialist bathroom remodelers in Culver City and the final execution is carried out by our tradesmen who are deft at transforming the very look of your bathroom and make it look stunningly luxurious and spacious. It is a combination of the best materials and design that go into the making of a designer bathroom that would be the envy of all.
Apart from bathroom renovation Culver City, we are also acclaimed solar panel installation contractors Culver City as we also offer a diverse range of services in the area of roofing, landscaping, garage conversion, loft conversion etc. In the Los Angeles county, we are an acclaimed home remodeling service provider and our skills and experience goes well beyond kitchen and bathroom redesign Culver City, Los Angeles. Call us at (888) 373-9930 and our experts will reach your doorsteps, understanding your specific requirement and offer a cost effective remodeling solution.
Garage Conversions in Culver City
Get the right garage conversion services in Culver city only from Progressive Builders, Inc. Converting your garage into a more useful space might turn out to be a smart decision for you. You can use it in a number of ways. From your home office to your studio – no matter what you want, our team for professional garage conversions in Culver City would help you out.
As a professional garage conversion contractor in Culver City, we would ensure that everything is taken care of in the right way. So, get in touch with our garage conversion company in Culver City and get more from your garage space.
ADU Construction in Culver City
Accessory Dwelling Units are like 'mini-houses' on your property. In most cases, they would come complete with a bedroom, kitchenette and a bath. There is a lot that you can do with your ADU. You can use it for your in-laws, or put it up for rent and earn some extra income. Progressive Builders, Inc is a professional ADU construction contractor in Culver City and we offer a wide range of services that are specifically designed to give you the best results when you are looking to construct your home ADU.
As a professional ADU construction company in Culver City, we understand the many challenges of ADU construction. In the first stage of the process, we would plan for everything based on your needs and desires. Then we would proceed towards getting all the necessary permits and then begin the work. We would ensure that the hassles would be as less for you as possible. We would use the best quality materials and advanced building methods that would ensure that you get a well-built and attractive ADU that would add value of your property.