Valencia, CA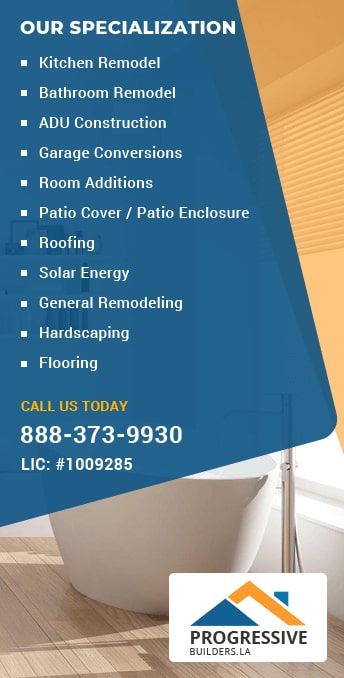 Valencia is an affluent neighborhood in the Santa Clarita region of Los Angeles and it is a planned township with scattered homes as well as clusters of homes within a village with paved pathways, schools and shopping arcades that makes it a truly desirable township to reside. Therefore, it is no doubt why there is a huge demand for home remodelers and renovators who are professional enough to convert a decent looking living space into a lavish, luxurious and spacious residence with all the best amenities and luxury facilities that help in transforming your lifestyle. Progressive Builders, Inc is the one of the preferred House Remodeling contractors Valencia that has years of industry experience in redesigning particular spaces of your home, especially kitchen, bathrooms, garages and patios into meaningful and functional areas. As a general remodeler in the LA county region, we also possess special expertise in Valencia roofing services as it comes in the ambit of general home remodeling services and we are experts in it.
Kitchen Remodeling Services Valencia, CA
A kitchen is one such space that deserves special attention as it directly serves the dining area and a professional remodeling work can make your cooking area look spacious and extremely functional. Additional space reclamation is one of the most important concern for any homeowner while redesigning a kitchen and it is a professional kitchen remodeling Valencia expert who can help you get a stylish looking yet exceptionally functional kitchen that has all the latest kitchen appliances and gadgets to make it look 'complete'. Our structural engineers, interior designers and home remodelers make every effort to focus on kitchen countertops, wash basins / sinks, faucets, microwaves, wall ovens, dish washers, storing cabinets and flooring that help your kitchen and dining area look extremely modern and spacious.
Our engineers also conduct extensive space reclamation within your house, making the most optimal use of unused spaces that is beautifully converted into functional areas and it is our reputation as the top Valencia kitchen remodeling contractor, we make such feat look, real easy. In the process of remodeling and kitchen renovation Valencia, we use the best quality building material in the form of marble stones, granite stones, wooden laminates for flooring, wooden kitchen cabinets, acrylic emulsions / paints, branded kitchen faucets and various other kitchen fittings, accessories and appliances that make your kitchen look extremely modern and ergonomic. We are here to convert your modest looking homes into 'dream homes' through redesigning those unused lying spaces into functional areas.
Bathroom Renovations Valencia, CA
Bathroom redesign requires special skill-sets and we have everything in our possession to carry out an extensive bathroom makeover that help your bath area get that special look by reclaiming additional spaces and modifying the existing one. We go ahead understanding your specific bathroom redesign Valencia requirement by taking your advice and suggestions every time. Our interior designers try to best understand your bathroom renovation needs and thereafter go about the process of remodeling by using our experience and your valuable suggestions. The materials used in the process of reconstruction is of the highest quality and this ensures superb quality construction.
Flawless engineering with accurate measurements gives that perfect look to your bathroom and with the installation of high quality bath fittings, faucets, bathtubs, showers, hand sprays and beautiful looking Italian tiles, marbles and granite countertops adds to the icing on the cake. It is therefore essential to find a professional bathroom remodeling Valencia contractor like us who would perfectly understand your needs by being in your shoes and engineer a complete bathroom renovation solution that is to your liking and needs.
Garage Conversions in Valencia
Garage conversions are a smart way to get more from your garage. As a creative garage conversion company in Valencia, we would get help you convert your garage into a home office, gym, studio,workshop and anything else that you might wish for. We focus on the aesthetics as well as the structural integrity of the garage.
So, how do we handle garage conversion in Valencia? All you need to do is get in touch with us and tell us about your idea. That would be followed by a structural analysis of your garage. Based on your inputs and the date we collect, we would give you a list of options for the design. After you choose one and all the paperwork is done, we would begin the work and make sure it gets completed on time. So, call us today and get the right services from an experienced Garage conversion company in Valencia.
ADU Construction in Valencia
Progressive Builders, Inc also helps you with ADU construction in Valencia. In fact, we are one of the few companies in Valencia to actually have a dedicated team for ADU Construction in Valencia.When you get our ADU construction services in Valencia, you can get the advantage of our experience as well as the latest and most efficient techniques. This helps us to build the right ADU that fulfills all your dreams and desires.
To get the services of our ADU Construction Team, all that you need to do is to get in touch with us and we would handle the rest. We would set up an appointment at your home and then understand what your needs and wishes are. After that, we would get all the permits and then begin the work.You can rest assured that we would not cause any disruptions to your daily life.