Manhattan Beach, CA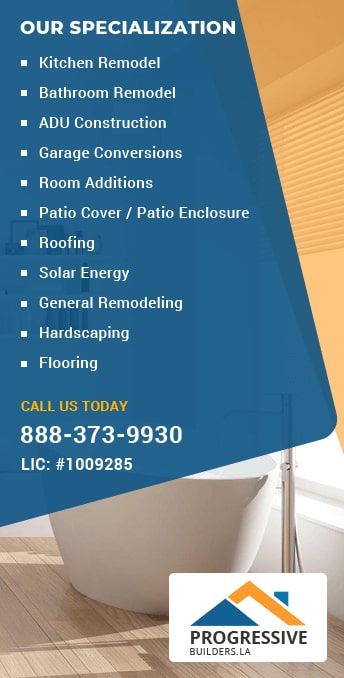 Manhattan Beach is a beautiful coastal city located in the Southern California region and it is known for its renowned luxury hotels and prestigious educational institutions in the form of high schools, secondary schools and colleges that imparts world class education. Little doubt why this city is inhabited by some renowned personalities and it is for them, companies like 'Progressive Builders, Inc' has come up with the most professional home remodeling solutions in Manhattan Beach, that is tested and proven. Our excellent home remodeling team in the Los Angeles county region has years of industry specific experience in redesigning modest homes, mansions and villas by reclaiming unused lying spaces and it is our expertise and skills that ensures 'value for money' home remodeling solutions that is simply a cut above the rest. We specialize in bathroom and kitchen remodeling services in Manhattan Beach, CA and it is our extensive home renovation services that is in huge demand among our customers who have a fairly decent understanding of home renovation techniques by best utilizing unused spaces. We are also specialists in roofing, landscaping, patio conversion, garage conversion, solar panel installation and a host of other services.
Kitchen Remodeling in Manhattan Beach, CA
Our kitchen remodeling Manhattan Beach services is highly professional in nature taking into consideration all aspects of kitchen redesign and kitchen renovation that truly transforms your cooking and dining area, giving it a spacious, luxurious and a brand new look. We are the first and last name in the area of kitchen renovations Manhattan Beach as our professionals are trained and skilled to the core and they use the latest renovation techniques that is trending the world over. Understanding your budgetary constraints and estimates make us know you better and thereby plan a redesign activity that perfectly meets your requirement.
We have a team of excellent craftsmen who use the best quality materials in the kitchen renovation process and the end result is a swanky new kitchen area that is in urgent need of repair and restoration. Our Manhattan Beach kitchen remodeling service has a lot of admirers and today we are recognized as the leading company in the exclusive domain of Manhattan Beach house remodeling services as the techniques used in the process of home redesign is internationally acclaimed and that best matches with the specific requirement of our esteemed clients. Call us for a free consultation at (888) 373-9930 and our customer support representative will be there to assist you in your kitchen renovation process.
Bathroom Remodeling Services Manhattan Beach, CA
Our exceptionally proficient team of bathroom remodelers in Manhattan Beach have executed a large number of projects and has attained a high degree of perfection when it comes to creating truly luxury living spaces and you got to see it yourself until you believe it. The work carried out by our interior designers, painters and structural engineers are flawless and you'll never get a chance to complain. We serve the Los Angeles county region and our bathroom renovation activity involves a high degree of perfection and precision that is our signature style. Think about bathroom renovations Manhattan Beach and we are always on our toes, ready to deliver.
Progressive Builders, Inc has got special expertise in bathroom redesign service in Manhattan Beach and that is only possible through our team of skilled remodelers who are all highly experienced. Call us anytime during the weekdays and our representatives will be more than happy to answer our queries regarding Manhattan Beach bathroom remodeling services. We are the undisputed leaders in the area of bathroom redesign in the Los Angeles county region and our satisfied clients are our best spokesperson. So, the next time you are looking for Manhattan Beach bathroom remodeling contractors, think about us and we will cater to your needs in the most professional manner.
Garage Conversion in Manhattan Beach
A lot of you might look at your garage and wonder how all that space is taken up by just your car and the bikes of your kids! Well, we can help you change that. As a garage conversion company in Manhattan Beach, we would help you convert your garage into something more beautiful and useful.
As a garage conversion company in Manhattan Beach, we help you to convert your garage into your bedroom, home office, home gym, studio and other things that you might want. Just tell us what you want and we would get it done. We would prepare a plan and attractive designs for you to choose from. Once you have chosen the plan that you like, we would begin the work without damaging your existing structure or causing any disturbances in your daily life.
ADU Construction in Manhattan Beach
When you are building an ADU at your home, then you need to get a lot of things right. You would need to get a plan in place, get it approved and get the licenses and then begin the arduous task of building it from the ground up. To make matters easier, you would need to get the help of a professional ADU construction contractor in Manhattan Beach.
Look no further, Progressive Builders is here for you. We are an experienced ADU construction company in Manhattan Beach and we offer specialized solutions for building custom Accessory Dwelling Units. By definition, an Accessory Dwelling should almost certainly come with a bath, a kitchenette and a bedroom. Now, putting it altogether is easier said than done. We carefully plan for every single detail and then get all the permits before we begin the work. This ensures that you can enjoy the perfect living experience at your ADU without having to worry about a thing.