Canoga Park, CA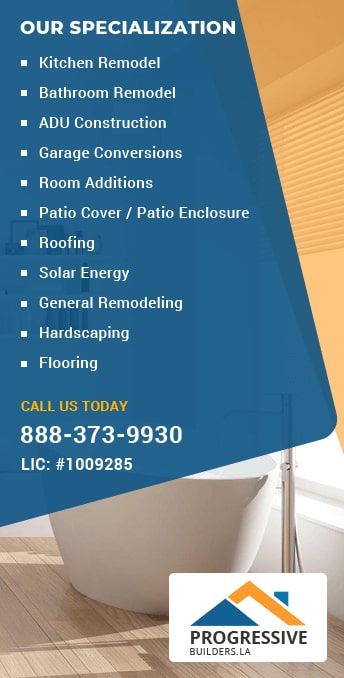 Canoga Park is one of the most beautiful neighborhoods in the San Fernando Valley. It is a highly diverse community, with people from different ethnic backgrounds living and working in the city. Progressive Builders, Inc is a professional home remodeling company in Canoga Park, and we are committed to make this beautiful community even more beautiful. As one of the most innovative home remodeling contractors in Canoga Park, we offer specialized solutions for kitchen and bathroom remodeling, ADU construction as well as garage conversions.
Kitchen Remodeling in Canoga Park ,CA
Kitchen is at the center of the modern American home. Therefore, you need to ensure that you make the kitchen the center of attraction. Done Right Home Remodeling LA is a professional kitchen remodeling company in Canoga Park, and we offer you the right solutions that adds that 'wow' feeling to your kitchen.We have a result-oriented approach to kitchen remodeling in Canoga Park.
We start the process by having a careful look at your home and then prepare the designs based on the insights you would give to us. After that, we would get all the permits if necessary and then began the work. We would ensure that we don't do any significant damage to your home in the process. So, give a call to our home remodeling company in Canoga Park and get the services that you need.
Bathroom Remodeling in Canoga Park, CA
Bathroom remodeling is an easy task provided that you have the right help. Our team of professional bathroom remodelers in Canoga Park would give you the help that you need.We have a team of some of the most highly experienced professionals and technicians and also the right tools and techniques, and we pull in the resources to give you the right solutions. When it comes to bathroom remodeling in Canoga Park, we take into account your personal wishes and desires.
We would help you with different tasks like fitting a shower enclosure, tiling, bathtub (alcove, standalone and others), bathroom lighting, vanities and everything else. We would sit down with you and discuss the things that you would want and get it done. If you have a dream then you can trust us that we would get it done.
Garage Conversion in Canoga Park
Garage conversions in Canoga Park are also one of the services that they offer. Garage conversions are a great way to enhance the way you use the space of your garage.We, at our Garage conversion company in Canoga Park help you to renovate your garage and reinvent it in amazing ways. We can help it turns it into your home gym, your additional bedroom, or something else.
We would take into account your needs and give the solutions that meet those needs perfectly. When you hire us as your garage conversion contractors, you can rest assured that you would get the right services that you would need.
ADU Construction in Canoga Park
Accessory Dwelling Units or ADUs need special attention when you are building them. Once you build them right, they can be used for a variety of different ways. You can use them for rental purpose or use them as your in-law space. Whatever might be your intention, we would fulfill it to the fullest.
As a professional ADU construction contractor in Canoga Park, we would ensure that you get what you want without worrying about a thing. So, contact our team of professional ADU construction contractors in Canoga Park and build your ADU in the right way.