Pico Rivera, CA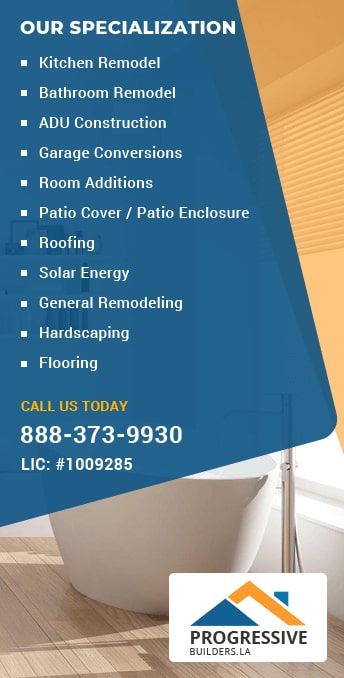 Pico Rivera in the Los Angeles county is a beautifully designed city with lots of parks and recreation spaces all around and it has golf courses and various other recreation centers, providing all round recreation to residents who are part of this wonderful city in Southern California. This city has a population of over 62,000 people and it is no doubt why there is a huge demand for home remodeling and home renovation activities in this particular city. Progressive Builders, Inc is one of the leading home remodelers in Pico Rivera who have executed some mega home remodeling Pico Rivera projects for big clients and it is our expertise in this exclusive domain that helps us perform quality services for our clients, day in & day out. Today, we are among the top kitchen and bathroom remodelers in Pico Rivera and few others can match our professionalism and quality of work.
Kitchen Remodeling Services Pico Rivera, CA
Your kitchen defines the way you live and you need to have a cooking or dining space that reveals modernity and at the same time functionality. In the Pico Rivera region that are quite a few kitchen remodelers but you need to choose the one who has got the resources, skills and know-how to convert your decent looking space into a spacious and well furnished cooking area that is extremely functional and best serves your daily household needs. You therefore need to hire an expert in the area of kitchen remodeling Pico Rivera who uses the latest and the most advanced techniques of kitchen renovation that has few parallels and customized according to your needs.
One such renovation or makeover involves a gamut of activities like installing kitchen storage cabinets, wall ovens, microwaves, wash basins, sinks, faucets, wooden laminate flooring or tiles flooring and all other allied activities that directly impact the kitchen renovations Pico Rivera work. Our structural engineers and interior designers conduct a thorough study and meticulous planning which helps in successfully engineering one such kitchen redesign activity and that requires huge expertise and skills. We also go for reclaiming unused spaces lying adjacent your kitchen and perfectly incorporate them into your kitchen space.
Bathroom Redesign Services Pico Rivera, CA
A bathroom is one such place of your house where you refresh yourself after a hard day's work or before leaving home early morning everyday and one should ensure that a bath area has all the standard facilities and amenities to make you feel good, fresh and relaxed. It is this thinking that helps residents go for upgrading or renovating their bathroom to international standards by using the best quality materials and reclaiming additional spaces from within their house and therefore the services of a professional Pico Rivera bathroom remodeling contractor comes in real handy.
We at Progressive Builders, Inc use the latest technique of bathroom remodeling and this is quite evident from the projects that we have executed over the period of time to the utmost satisfaction of our esteemed clients. The materials used in the process of is far superior to our nearest competitor and that is clearly seen in our quality of work in the area of bathroom redesign service in the Los Angeles county region. Right from the planning phase to the final execution stage, we do it all with perfection and you bathroom gets that swanky new look like never before.
Garage Conversion in Pico Rivera
The garage is often one of the most unused space of your home. Why waste this space on just parking your car or storing random items? Our garage conversion services in Pico Rivera are designed to enhance the way you use the space by converting it into a more useful and beautiful space. As an experienced garage conversion company in Pico Rivera, we have people in converting their garage into additional bedrooms, home office, gym, workshop, studio, library, business space and what not.
To get the services of the most trustworthy garage conversion contractors in Pico Rivera, all you need to do is just get in touch with us and we would handle the rest. We would sit down with you and know about the things that you desire and then work towards achieving those goals in the most efficient way.
ADU Construction in Pico Rivera
When it comes to ADU construction in Pico Rivera, you would need to get the services of a professional ADU construction company. A general remodeling company might not be well-equippedor experienced to face the unique challenge of building an Accessory Dwelling Unit. Progressive Builders, Inc is a professional ADU construction company in Pico Rivera, and we offer you the expertise that you need to build your ADU in the right way.
What it takes to build an ADU in the right way? It is all about meeting your desires and having in-depth knowledge of structural engineering. We would start the process of ADU construction in Pasadena by sitting down with you to know about what you wish to achieve. We would also survey and analyze the available space in your property to choose the right spot. The team at our ADU construction company in Pico Rivera, would also procure all the necessary permits from the local authorities so that you don't have to face any issues later on.