Sunland, CA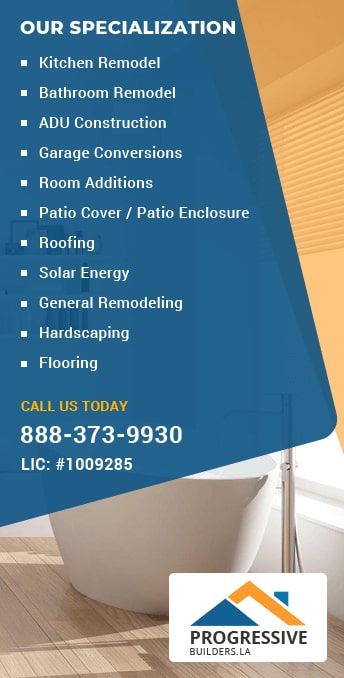 Sunland in the foothills of the San Gabriel Mountains is a beautiful resort town with full of fresh air and wonderful climate all the year round, making it the best place to reside for the elderly as well as for the young as it offers a high standard of living. It is a vibrant town in the state of California and its citizens too has their own home redesign and home remodeling needs. Responding to their home renovation queries, it is 'Progressive Builders, Inc' who have come up with the most functional and cost effective home redesign solutions through its skilled tradesmen. We have some of the best Sunland remodeling contractors in our dedicated payroll who possess years of experience and they go on to create bespoke homes that revive that exquisite appeal for your home interiors as well as exteriors as we remodel it by using the best quality materials. We are one of the leading kitchen and bathroom remodeling contractors in Sunland that needs no introduction as our services speak about our professionalism that has few parallels across the Los Angeles county region and beyond. Give a whole new meaning and definition to your home remodeling needs in Sunland as we are here to produce that dynamic design that is sure to catch the attention of all.
Kitchen Remodeling Services Sunland, CA
Our expertise in kitchen remodeling has helped us achieve that much needed fame that has eventually helped us earn the trust of our esteemed customers who look no further while searching for a kitchen remodeling contractor in Sunland, Los Angeles. We use the latest techniques and methods while renovating and redesigning a home kitchen that needs an urgent overhaul and the end result is a swanky new kitchen area for your home with the best of fittings, kitchen accessories, decorations, space adjustments, wooden laminate flooring, tiles and granite stone countertops that increases the aesthetic appeal to many folds. If you are looking for a professional kitchen redesign Sunland, it is we who can provide you the same in a cost effective way by deeply understanding your budgetary concerns. Assessing the situation 'first hand' and then devising a meticulous plan is our speciality and we very well execute one such extensive kitchen redesign plan that is our forte.
The name 'Progressive Builders, Inc' have become synonymous with kitchen remodeling Sunland as we use the latest methods of kitchen redesign and kitchen renovation that help a cooking or dining area look exceptionally beautiful, spacious, luxurious and completely transformed. Budget too is an important aspect while thinking of redesigning a kitchen and we take into account every single detail that concerns you and carefully address your needs. We are rated among the top Sunland kitchen renovation contractors, simply because of our expertise and resources that help any ordinary looking kitchen adorn a special look that is surely going to impress all.
Bathroom Remodeling Services Sunland, CA
Our proven expertise in bathroom remodeling Sunland is second to none as we employ the latest remodeling techniques that speaks 'class' of the highest level. Being the top bathroom remodeler and renovator, we use home renovation methods that are trending globally and this has made us the number #1 choice among our customers in the Los Angeles county region. No two bathroom design can be the same and we very well understand this fact and engineer a perfect design for your home that perfectly matches and blends with your home interiors.
So, if you are looking for the most professional bathroom redesign contractors Sunland, it is we who can provide you with an array of home remodeling services in the area of landscaping, patio remodeling, garage conversion apart from kitchen and bathroom renovations Sunland. We are the leaders in the area of bathroom redesign services as we help you choose from a catalog of online designs that vary in dimension, shape, size, color combination and materials used in the process of a bathroom redesign Sunland service that definitely has its effect on the overall beauty aspect of your home. Call us at (888) 373-9930 and we provide you our FREE consultation service and also provide you the best quotes.
Garage Conversions in Sunland
If you want to utilize the space in your garage more effectively, then you can get our garage conversion services in Sunland. We are one of the most experienced garage conversion contractorsin Sunland and for over a decade, we have been helping people get more from their garage.
As an innovative garage conversion company in Sunland, we can help you turn your garage into something beautiful. We can turn it into an additional bedroom, a home office or business center, a home gym, kid's play area, game rooms and what not. We can also help you to enlarge your garage or even add additional levels. Just tell us what you want and we would get it done. So, get the help that you need from the most experienced garage conversion contractors and use your garage for something more useful.
ADU Construction in Sunland
Accessory Dwelling Units are dwelling units which would come complete with amenities like kitchenette, bath, bedroom and any other amenities that you might want. At our ADU construction company in Sunland, we would help you build amazing ADUs that will fulfill what you want and also give you a comfortable living experience
So, what do you need to do when you are looking to hire our ADU construction company in Sunland? All you need to do is just give us a call and we would handle the rest. Our team of professionals have years of experience in the industry and they know how to deal with a challenge. We would sit down and have a talk with you and based on your inputs, we would create designs. Once you agree to a design, we would get all the necessary permits and then begin the work. This ensures that we are able to build an ADU according to your specifications.