Expert Kitchen Remodeling in Los Angeles County
---
We Build Kitchen Masterpieces
Your kitchen is one of the most vibrant places in your home. It's where you spend a great deal of time, and it is the place where you entertain your guests for a lunch or a sumptuous dinner. Your cooking and dining area should be a space you love, one that is stocked with the best appliances and amenities.
Bringing Your Dreams to Life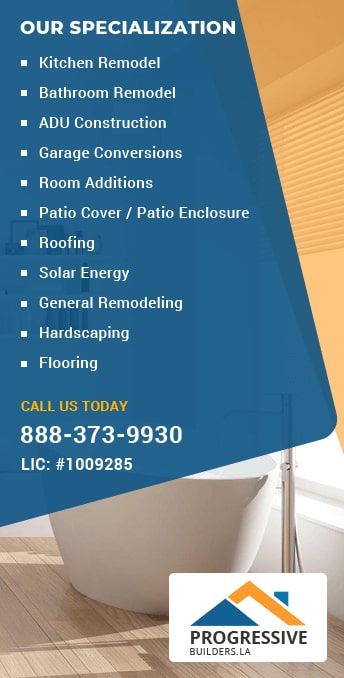 At Progressive Builders, Inc, our team of experienced kitchen remodeling experts will leave no stone unturned in creating the kitchen of your dreams. We will start with a free estimate for your kitchen redesign project, and our interior designers will make a 3D model of your home interior to help in executing your desired modifications and changes.
Find comfort knowing our designers and architects are at your disposal, taking suggestions and advice from you regarding any specific changes you want to see to your kitchen or dining area.
We have a team of qualified builders, carpenters, plumbers, electricians, tilers and masons who use state-of-art equipment and quality building materials to ensure that the renovation work lasts.
We also specialize in different types of kitchen flooring, and can even knock down walls to create and reclaim additional space within your house. Our project manager will ensure that all the necessary design and space specifications are met with no cost and time overruns. Our entire team is committed to creating the kitchen of your dreams.
Remodelers With a Reputation Built on Trust
It's important to hire kitchen remodeling contractors who have the requisite experience and know-how to create the kitchen of your dreams by remodeling your existing one in ways you never imagined. Progressive Builders, Inc provides a true "value for money" service, which is evident from both our past kitchen renovation projects and the ones we are currently executing.
Schedule a Free Consultation Today
Let Progressive Builders, Inc design and build your perfect kitchen space, where your memories will last forever. Contact us via our online form or call us at (888) 373-9930 to schedule a free consultation and estimate for a kitchen masterpiece!