Patio Cover / Patio Enclosure Enhance the Beauty of Your Backyard
---
Patios are a wonderful place to enjoy quality time with your family and friends, while savoring the freshness of the outdoors. If you have always dreamed about having a patio, then Progressive Builders, Inc is here to make your wish come true.
We offer innovative and affordable solutions for outdoor living spaces throughout Los Angeles, including patio covers and patio enclosures. We make sure every patio we design looks attractive while keeping the sun, rain, wind and all other elements at bay.
Patio Remodeling Experts in Los Angeles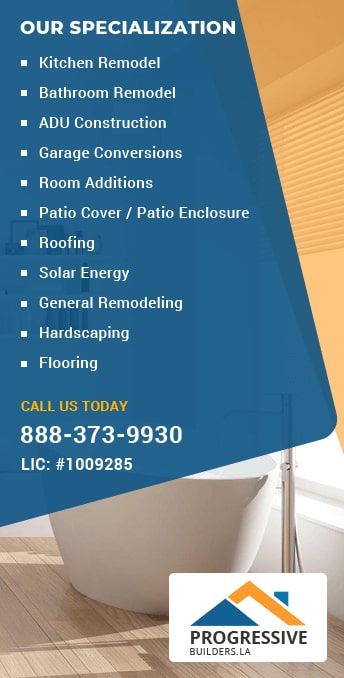 Working with one of the leading patio builders in Los Angeles means your patio project is in the most professional hands possible. A Progressive team member will first have a detailed discussion with you to understand what you want for your outdoor space. Then we will take the necessary measurements and create an attractive and innovative patio design for your approval. Once you approve the design, our team of experienced craftsmen will start the work on an agreed-upon schedule.
Are you looking to take your patio up a notch? We can easily add a barbeque or any additional features that you desire. Find comfort knowing that every installation adheres to all the necessary guidelines and that we offer a range of styles to choose from to help you guarantee a perfect fit for your lifestyle.
Progressive Builders, Inc Is Ready to Discuss Your Project
A great patio not only makes your backyard more attractive, it also gives you a comfortable escape from the elements when combined with a patio cover or enclosure. Get in touch with Progressive Builders, Inc and get the best patio remodel available in Los Angeles. We are excited to give you a free quote; simply fill out our online contact form or call us today at (888) 373-9930.