Simi Valley, CA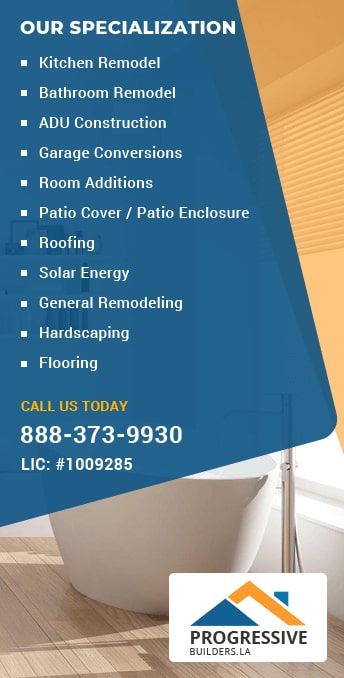 Simi Valley in the Ventura County is adjacent to the Los Angeles neighborhood of Chatsworth, Moorpark and Thousand Oaks as it serves the needs of the daily commuter who resides in this city. Therefore, there is a huge concentration of moderate size dwellings and houses in this city that have diverse home building and home modification needs. At Progressive Builders, Inc, we have very well understood the needs of this scattered community in Simi Valley who often asks for our home redesign services as we are regarded as one of the leading Simi Valley remodeling contractors with huge experience in upgrading homes to truly international standards which is worth viewing and residing. Home remodeling is our forte and we have mastered the art of kitchen and bathroom remodeling services apart from the various other services such as landscaping, roofing, patio & garage conversions as well as solar panel installation. Roofing in Simi Valley is another prominent area where we possess special expertise.
Kitchen Remodeling Services in Simi Valley, CA
Kitchen spaces should be open and portray a spacious feel that help a person enjoy his / her cooking sessions that is like an experiment that one does with flavors, colors, aroma and taste. It is this thinking that has prompted homeowners go for a spacious and luxurious looking kitchen by completely redesigning, modifying and refitting with the best quality branded kitchen appliances and building materials that go on to last for years and provide a safe and easy cooking experience. Therefore, a kitchen remodeling Simi Valley professional can help you with a dream kitchen that you have always visualized.
Our expertise in kitchen renovation and kitchen redesign Simi Valley speaks about our professionalism and we have grown old with our years of experience in transforming decent looking kitchen spaces into functional areas of your home that reflect a contemporary taste in a truly modern style. Replete with kitchen countertops in granite stone, stainless steel sinks, faucets, storage cabinets and wooden laminate flooring bring about that aesthetic and we help your kitchen look smart, robust and stylish in every sense.
Bathroom Renovations Simi Valley, CA
Bathroom redesign and bathroom renovations has always been our strength and we have quality bathroom remodelers in Simi Valley who go about performing professional remodeling services by using the best quality building materials. It is like understanding your specific needs and then devising a meticulous re-engineering plan that help your bathroom get that spacious feel with all the modern bath fittings, amenities and accessories that truly enhances its decor. Our Simi Valley bathroom redesign services are considered second to none as we employ the latest technique in our home renovation process.
Get an ergonomically designed, fully refurbished and spacious bathroom through our professional bathroom remodeling Simi Valley services that we execute through our team of expert home renovators and designers who are deft at transforming dull looking spaces into vibrant ones innovative and functional design and by using quality building materials that create an aesthetic appeal which is surely going to last for years and bring about that 'wow' effect.
Garage Conversion in Simi Valley
Looking to get more out of your garage space? Well, we can help! Progressive Builders, Inc is a professional garage conversion company and we help you to convert your garage into something more useful. With our garage conversion services, you can turn your garage into a home office, game room, gym, studio, and anything else that you might like.
Garage conversions might look simple on the face of it, but it really requires some good deal of effort. At our ADU construction company in Simi Valley, we would give you the expertise that you need. We would plan for every single detail and ensure that you don't have anything to worry about.So, contact us today and get the right solutions for garage conversion services in Simi Valley.
ADU Construction in Simi Valley
ADU construction is one of the most effective ways to get more space from your property. ADU or Accessory Dwelling Units is like a mini-home which often comes complete with a kitchenette, bath,bedroom and all the amenities that allows you to live comfortably. You can build your ADU for rental purposes or you can even use it as an in-law space.
Since ADU is a complicated construction process, you would need to get the help of an expert.Someone who has the experience of working on such project. Progressive Builders, Inc is one of the most experienced ADU construction contractors in Simi Valley and we help you build an ADU according to your specifications. We would get all the permits and also adhere to the safety codes so that you have nothing to worry about.