How to Turn Your Patio Into an Outdoor Getaway for Summer
---
Summer: it's the perfect season to relax and spend time outdoors. You don't have to go far to do that. Your patio is your go-to place where you can spend quality time with your family and friends, while you beat the summer heat.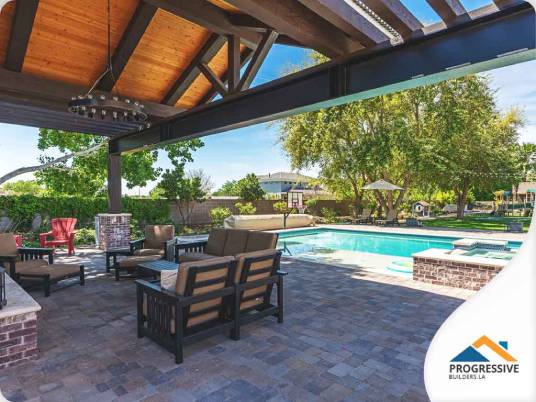 If your patio is not yet summer-ready, you need not worry. Bathroom remodeling experts Progressive Builders, Inc. are here to give you some inspiration to help you turn your patio into your own outdoor oasis.
Build a tower of plants
Gardening is an easy way to beautify your patio. Repaint an old, rusty ladder and place assorted planters, flower pots and antique boxes. Adding all that green will certainly make the space feel more lush.
Make your pool the coolest spot on the block
There are times when you don't want the sizzling sun beating you down while you swim, right? If you want to add more shade, but your budget is limited, then a shade sail is a good alternative. It is sturdy, blocks ultraviolet rays and is inexpensive. Adorn it with ribbon and sisal to make it more eye-catching.
Add an outdoor kitchen to your patio setup
With some kitchen remodeling, you can open up your kitchen to your guests during parties with an open bar space. This requires a long counter that extends from inside your home, opening through some French windows that seamlessly connect indoor and outdoor spaces.
Leave plenty of room for a patio dining
Embrace the warm weather and plan a get-together in your patio. Whether you're savoring a glass of iced coffee alone or having a party with your family and friends, this rustic patio set would suit any occasion. Simple it may be, but it can complement your existing outdoor decor can add aesthetic value to your patio.
Have your own backyard tiki bar
A tiki bar is another great idea that can be a really fun outdoor space. Often located near the poolside, this bar will give your guest a space to gather and socialize while enjoying drinks.
Considering a room addition instead? No problem! Just give Progressive Builders, Inc. a call today at (888) 201-1870 for a FREE consultation. With our extensive remodeling expertise, we can address whatever requirements you might have. We serve Pasadena, CA, and the surrounding communities.